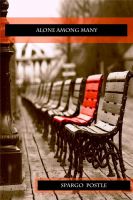 Alone Among Many by Spargo Postle
As a contemporary poet Spargo Postle recognises the loneliness and isolation we can all encounter, even when we are seemingly among many others. His poetry expresses what we all feel but are unable to speak of, out loud... Selected by Spargo Postle himself for a paperback edition includes We Are Lonely, A Man Of Few Words and I'm scared of the darkness...
About Spargo: Spargo Postle has roamed and meandered his way through life watching and listening to the nations of people that exist around him.Spargo Postle feels that poetry is no more than capturing a string of thoughts onto paper, so feel free to leave your thoughts in a review. But then if you would rather just read his work and browse on by, so be it.
Thank you Spargo for the opportunity!
--
The Twitter version: tell us about your book in 140 characters or less.
Alone Among Many by Spargo Postle. We, we many, we are lonely. Simple, uncomplicated, pragmatic poetry, even for those who don't read poetry

--How did you get the idea for the story?
The world can be a lonely place, no matter how many we are surrounded by... Even the internet, though it provides us with opportunities like this to reach out to many hundreds at a time, leaves us isolated... Once we press the off button and the hundreds flicker away we are left alone, unable to express to those that surround our real world what our life should have been like... If you do get someone to listen you can see their smiling disdain of your world, just before they turn and forget what you just said...
I'm a poet, so watching people is a voyeuristic compulsion that I have never been able to deny from the beginning of my time... Each poem is a little bit of me and a lot of who I see around me, but all of their worlds and mine get jumbled and messed with so that the world I see is the world I want it to be... So I wrote my thoughts to reach out to those who may be similar to me...
--Which character would you most/least like to have dinner with?
Most - There is a character I saw some years ago in a club when I was living on my own, a true beauty during the day… But the way she was dressed in the club looked like she had just 10 minutes to find a man, very little left to the imagination, make-up by 'Trowel' (I hope that isn't a real make-up manufacturers name)… At first I didn't recognize her and then it dawned on me that it was a woman who didn't live far from me, in her late thirties to early forties I would say… She acted like a complete animal all night, virtually pawing at the men around her… At the end of the night she was crying near the toilets, very drunk, and then she was walked out by a couple of her friends… I so wish I could have just spoken to her a few days afterward, find out why she changed from one thing to another, why she seemed so together during the day and then acted with complete abandonment Friday nights… I never did, but I wrote 'Beauty Became the Beast' to place her into my world, where my characters live, to give what she turned into some context and meaning…
Least - In the poem 'A Poet Walks Into A Bar' there are a whole host of characters that I have used before and will use again but the person I least like is the wife-beater… I just couldn't find the words to make him as evil and depraved as I wished to… He is the culmination of people I have met and people who I have seen from time to time… Someday I will find a way to destroy this character but I need to find the words to show who is and then the words to kill… Perhaps I need the courage as much as those that live with such terror of what's about to come back from the bar…!!!

--What are some of your favorite books? Do you still have much time to read?
As a youngster I used to love Roald Dahl books because they told me all about another world that didn't seem to exist for me… Much later I read the book Scanners by David Cronenburg and the main character just seemed to shout out to me… Strange really because it got such a slating by the critics, but I loved it… I also love to read and re-read some of T.S. Eliot's later work. Sadly I don't read as often as I should do or would like to but I love some escapism books such as Dan Brown… I really don't see why people who write knock him so much, readers love his work and that seems to be so very important when writing a book…!!!
--Do you have any other works in progress? Any teasers or release dates?
It has to be said that I am constantly writing poetry but it doesn't always turn into pigment as the ideas wax and wane. But I am currently working on a set of poems around the same theme, mythical gods/entities/otherworld/guardians, or something along those lines… I am also looking to write a novel, traditionally, without poetic stanzas.


--If a fairy godmother told you your life could be like a favorite book for 24 hours, which book would you pick and why?
This is a more difficult question to answer than I expected and the truth is that I would pass on her wish grant… Unless I could cheat a little, after all I'm just using 'poetic' license… I would live through Shakespeare's sonnets, but through his mind's eye… What did he see when he wrote them, who did he see, how many people was he seeing?


--Do you need anything to write (music, coffee, etc)? Are there any songs on your
playlist- songs that inspired you or that were playing while you wrote?
I usually need peace and quiet, to be able to drift around in my little other-worlds… Songs and, in particular, music videos can be a major inspiration… I am eclectic in my musical tastes, the lyrics have to say something… As for the music videos there are so many beautiful, thoughtful, sad, challenging, prophetic, intelligent things to see it would be hard not to be inspired… But when it boils down to it and I am in a place where there are people I make lots of notes about all of their worlds, but I capture what I view from my eyes not theirs…

--If you could have any superpower what would you choose?
You would think after all I have just answered that I would want the super power of mind reading… Truth is that I have come to realize that I like people to live in my reality and not theirs because they never quite live up to being the people I wanted them to be when they actually open their mouths… So my super power would be to fly… I would so love to fly over the landscape with the same freedom as I see birds do…

--Besides writing, what do you like to do in your free time?
Be with my family, it's the only place I have ever felt safe enough to just be me… I also like to draw… I have taken courses and have studied and studied but I am bloomin awful… I seem to have the hands of a wrestler…

--Is there anything else you want to add or say to your readers?
There are those of us that can stand in a crowd of people and feel more Alone than ever before… We can be Among the most loving of families and still recognize that we are in some way not quite connected to them in the way they would want us to be… So very Many of us are fractured, lonely, isolated… Reach out, say hello, smile, know that we are there… And then… We, we many, we are lonely… Together… Love Ya, Spargo Postle.
Lightning round: this or that?
Vanilla or chocolate?
Always and forever chocolate…
Edward or Jacob?
Edward, does that make me sound terribly English?
Hockey or soccer?
Soccer…
Beach or mountains?
Mountains…
Phone call or email?
Email…
Early bird or night owl?
Night owl..
Dog or cat?
Neither, but if pushed then dog…
Messy or neat?
Very very messy…
Ninjas or pirates?
Ninjas…
And now for the giveaway:
10 copies available, open internationally