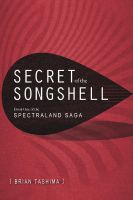 Secret of the Songshell by Brian Tashima
Joel Suzuki gets a huge surprise when he bumps into his favorite rock star while walking down the street. You see, this particular rock star – multiplatinum bandleader Marshall Byle - is supposed to be dead.
Joel gets an even bigger surprise when Marshall makes him the offer of a lifetime: the chance to become a rock star himself. There's a catch, of course, but this one is a little different. To unlock the shortcut to success, Joel must travel to an alternate world where his unique brain waves can be combined with the sound waves of music to create magical effects. If he can learn to harness these powers, he will be able to write songs that capture the hearts of millions.
As a sensitive sixteen-year-old with Asperger's Syndrome living in a single-parent home, Joel leads a stressful life full of bullies, bad grades and money woes. Figuring that stardom will solve all of his problems, he accepts Marshall's offer. But once Joel arrives in the new world, he finds himself faced with an unexpected audition that is unlike anything he has ever imagined. . . .
- paperback copy, open internationally
-Fill out Rafflecopter to enter
-Ends on 1/28/2013 11:59 pm EST
-Make sure to check out and comment on our interview below for an extra entry
-If you win a review on your blog and/or amazon is appreciated but not required.
a Rafflecopter giveaway
Find Brian:
Website:
www.thespectralandsaga.com
Facebook:
www.facebook.com/TheSpectralandSaga
Twitter: @SpectralandSaga
Amazon:
http://www.amazon.com/s/ref=nb_sb_noss_1?url=search-alias%3Daps&field-keywords=secret+of+the+songshell
Smashwords:
https://www.smashwords.com/books/view/180939
--The Twitter version: tell us about your book in 140 characters or less.
A teen guitarist with Asperger's Syndrome goes to a world where his brain waves, along with the sound waves of music, can produce magic.

--How did you get the idea for the story?
A few years ago, my son asked me to write him a book. Most of my creative writing over the years had been songwriting, so I wasn't sure where to begin, even though I'd been an avid reader all my life and writing a book was something I'd always wanted to do.
So I started with the old saying: "write what you know." I thought about how my son – who has Asperger's Syndrome – can do a lot of amazing things that almost seem like magic or superpowers to me. I combined that idea with what I know best (music), and that was how it all started.
--Which character would you most/least like to have dinner with?
A character from my book? I'd like to have dinner with Marshall Byle, the rock star that tells my protagonist about the secrets to stardom. He has some pretty good backstage stories and can afford to pick up the check.
--Do you have any other works in progress? Any teasers or release dates?
I'm currently hard at work on the follow-up to Secret of the Songshell. Both books are part of a planned series of seven books called The Spectraland Saga. My goal is to release the follow-up in the fall of 2013. People are already asking me "where's the second book?" so the pressure is on.
--What book(s) is your book's "cousin"? (Similar set-up or style)
Without apology or excuse, I'm going to reference good old Harry Potter here. My son and I both love that series, and it was a big influence on Secret of the Songshell. My book wants to be just like cousin Harry when it grows up.
I will say that, while I was writing Songshell, I was also reading East of Eden, so some of that might have crept in there as well.
--What are some of your favorite books? Do you still have much time to read?


I devoured fantasy of all types as a kid – Tolkein; Piers Anthony; David Eddings; Katherine Kurtz; on and on. My favorite books are the ones that force you to postpone real life while you read just one more chapter. The Hunger Games was the last book to have that effect on me.
I don't have a lot of free time, but I love to read, and I do it whenever I possibly can.

--If a fairy godmother told you could be put into the world of your favorite book for 24 hours, which book would you pick and why?


I'm going to say my book! I'm not on the Autism spectrum myself, so I wouldn't have the same abilities that my character does, but it would be a blast to see my imaginary world come to life. Plus, seeing it with my own eyes would help me write descriptive scenes for the rest of the series.

--Do you need anything to write (music, coffee, etc)? Are there any songs on your playlist- songs that inspired you or that were playing while you wrote?
You would think that as a musician writing a book about music having magical properties, I would listen to all kinds of stuff while I wrote – but oddly enough, I hardly do. I find it distracting, to be honest. Usually just a mug of green tea or a beer (depending on time of day) does the trick.

--If you could have any superpower what would you choose?
Time travel.

--Besides writing, what do you like to do in your free time?
I'm in three different rock bands so that pretty much consumes all my extra time. Every so often I manage to get in a round of golf or an hour at the gym.
--What is one thing you would tell your 15 year old self?
Relax. And buy lots of Apple stock as soon as you can.

--Is there anything else you want to add or say to your readers?
My primary goal with this book (and the rest of the series) is to provide kids on the autism spectrum with a fictional hero that they can relate to and gain a sense of coolness and empowerment from. I'm also donating a portion of profits from the book to Autism Empowerment, a non-profit organization based in my town that works to promote autism awareness and education.
I tried very hard to craft a story that doesn't beat you over the head with the whole autism angle, but still gives you enough understanding of what a person on the spectrum is possibly thinking and feeling. Most of all, I wanted it to be a fun and entertaining read along the lines of all the other young adult sci-fi/fantasy books that my son and I both enjoy. I hope you'll check it out and let me know if I've succeeded.