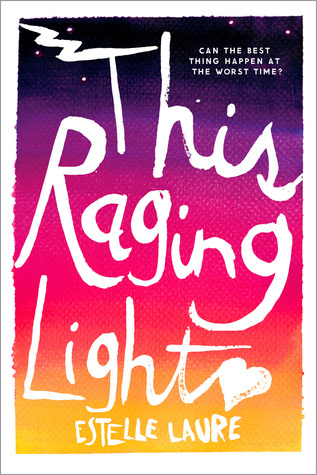 This Raging Light by Estelle Laure
Can the best thing happen at the worst time?
Her dad went crazy. Her mom left town. She has bills to pay and a little sister to look after. Now is not the time for level-headed seventeen-year-old Lucille to fall in love. But love—messy, inconvenient love—is what she's about to experience when she falls for Digby Jones, her best friend's brother. With blazing longing that builds to a fever pitch, Estelle Laure's soulful debut will keep readers hooked and hoping until the very last page.
Publishes in US: December 22nd 2015 by HMH Books for Young Readers
Genre: ya contemp
Source: Houghton Mifflin Harcourt via earc from Edelweiss and Netgalley
Disclaimer: I received this book as an ARC (advanced review copy). I am not paid for this review, and my opinions in this review are mine, and are not effected by the book being free.
Series? no
Buy it:
Amazon
IndieBound
Barnes and Noble
Author stalk away: ~
site
~
twitter
~
blog
I wanted to read this one because I was interested in her being basically on her own and having to take care of her little sister. she was pretty easy to like she had a very lyrical voice and even though she's pretty dramatic about her crush on Digby, her best friend Eden's brother. Otherwise she showed a responsibility and a maturity and trying to take care of her sister. I hate that she had.to hide it and couldn't get more help, but can definitely see that she was all too afraid that if word got out that social services would get involved and they would most likely be separated.
It was easy to get drawn into the book in the beginning, the pages passed pretty quickly for me but the thing that I found and I've also seen in several other reviews is that it really started to take on too many plot lines. Having dad who has mental issues and the mom who is taking holiday while she leaves her two daughters to fend for themselves would have been enough... especially having the best friend issues, and the crush that turns into more with a guy who already has a girlfriend and had been with her for so long. Adding more to that just was overkill.
Another thing that I really did not like is that with the romance. Digby already had a girlfriend. Now, I think its fine for her to be crushing on him while he's with someone else, especially since the crush is dated. but whenever they start getting more serious is when I started having more issues with it. I don't really like cheating aspects in a book and I know that I have several blog buddies who are completely and utterly against it and hate it.
But I loved the bond between her and her sister. She was so protective, and I liked how mature she was in those instances. She got a job to help with bills, since she doesn't hear from her mom, and she has only sent 100 dollars once. There is someone that is helping her in secret, and then Digby and Eden have helped with watching Wren. These things kept me reading, and I guess that even though it was cheating, I couldn't help liking Digby as the book went on--how intuitive he was to Lucille and how sweet. He was good with Wren, and they undeniably had chemistry. I guess that is from being in Lucille's head with the feelings and emotions to back it up.
One of the excess was the fight between Lucille and Eden. I liked their friendship in the beginning but the frustration when Eden took Lucille's lashing out too personally. Lucille was really stressed and even though she yelled at them, I think I could overlook because of all she was dealing with.
Bottom Line
: Addictive and I liked Lucille despite my issues with cheating and too many plots and not enough resolution for me.
My question to you, my lovely readers:
Are there any instances where you are ok with cheating in books or real life?