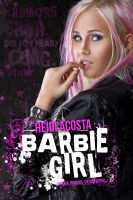 Barbie Girl by Heidi Acosta
Set in contemporary Phenix City, Alabama, the story follows 17 year-old Barbie Starr -- a young girl who is facing the harsh realities of life -- realities that include a mother who is addicted to pain killers and an autistic younger brother who does not speak:
The only thing that Barbie Starr wants to do is graduate high school so she and her little brother, Everett, can get out of Alabama. She doesn't care about the rumors that are spread around about her like wild fire. Rumors are nothing new to her. Sure, maybe she could change her reputation, but why bother. She is leaving Alabama as soon as she can. That is, if she can pass algebra and graduate.
The only thing Dylan Knight would like to do is get through to graduation unnoticed; he has had enough of the drama that is high school. He took the whole of last summer to bulk-up and the neighborhood kids finally stopped calling him names and picking on him. He only wants to remain outside out of the circle of constant rumors that surround the so-called popular kids who get all the attention. He would not, however, mind if his long time crush Katie took notice of him.
It's Barbie, however, who notices Dylan and she offers him a deal he can't pass up, if he helps her pass algebra, she'll help him get the notice of his dream girl Katie. Dylan agrees, but, as it turns out, nothing is simple when it comes to Barbie. Somehow, she can't help but draw attention to herself -- and to him. Soon Dylan finds himself tossed into the whirlwind of rumors that seem to follow Barbie everywhere. Can he save his reputation and still get the girl of his dreams? Or will Barbie be the one to break through his carefully-built facade?
Barbie Girl is the first Novel of Heidi's new, four-book, Baby Doll Series: Barbie Girl, Barbie World, Doll Face, and Southern Sugar, and available through, Barnes and Noble, Amazon, Kobo, Apple, and
Smashwords.com
. You can read the first chapter of Barbie Girl at:
Authorheidiacosta.blogspot.com
Site:
Facebook:
http://www.facebook.com/Authorheidiacosta
Twitter:
https
://twitter.com/Barbiegirlnovel
Tumblr:
http
://authorheidiacosta.tumblr.com/

--The Twitter version: tell us about your book in 140 characters or less.
Not just your average boy meets girl love story. There is more involved. It will make you cheer for the underdog. #Fun# Romance# Friendship #Family @ Barnes and noble@ Amazon @Smashwords.

--How did you get the idea for the story?
The character Barbie was from another story I was working on. Barbie was so interesting that I wanted to tell her story. It just bloomed from there.
--Which character would you most/least like to have dinner with?
I would love to have dinner with Barbie. I think she is so unique. There is never a dull moment with her.
--Do you have any other works in progress? Any teasers or release dates?
Yes, Barbie World is the second installment in the Baby Doll series that I am in the process of writing now, and another book is in the beginning stages. I hope to have them both out by this summer.
--What book(s) is your book's "cousin"? (Similar set-up or style)
The closest thing to a cousin I would say is The Secret of Ella and Micha by Jessica Sorensen.
--What are some of your favorite books? Do you still have much time to read?
I have so many favorite books! Every time I read another book, I am like "Oh this is my favorite book! " Until I pick up the next one. I am currently reading Hush, Hush by Becca Fitzpatrick. So that is my current favorite. And yes, I always make time to read. I think it is so important to read as an author to keep yourself challenged and have other works to look up to.

--If a fairy godmother told you could be put into the world of your favorite book for 24 hours, which book would you pick and why?
Harry Potter and the Sorcerer's Stone of course! Why? Because how cool would it be to be a wizard for a day. ;)

--Do you need anything to write (music, coffee, etc)? Are there any songs on your playlist- songs that inspired you or that were playing while you wrote?
Music is a must when I write! It often becomes my inspiration for new characters or story plots. Right now I have Taylor Swift's album Red on repeat while I write. While I wrote Barbie Girl, I listened to Goo Goo Dolls a lot.
--If you could have any superpower what would you choose?
To fly! How fun would that be! I would love not to have to deal with traffic anymore and save a lot on gas.

--Besides writing, what do you like to do in your free time?
I love to spend time with my family, shop, watch funny movies, stalk the Young Adult section at my local Barnes and Noble, and read, of course.
--What is one thing you would tell your 15 year old self?
That life is wonderful and to follow your dreams to the fullest. Do not take the mean things people say to you to heart. And just be happy and have fun! Don't worry so much.

--Is there anything else you want to add or say to your readers?
That I appreciate each and every reader.You all rock!
Lightning round: this or that?
Vanilla or chocolate?
Chocolate
Edward or Jacob?
Jacob
Hockey or soccer?
Soccer
Ebook or paper?
Both
Salty or sweet?
Sweet
Beach or mountains?
Beach
Phone call or email?
Email
Early bird or night owl?
Early bird
Dog or cat?
Cat
Messy or neat?
Messy
Ninjas or pirates?
Pirates!
-$25 Amazon Gift Card and 2 ebooks of Barbie Girl open internationally
-Fill out Rafflecopter to enter
-Ends on 3/16/2013 11:59 pm EST
-Make sure to check out and comment on our interview below
-If you win a review on your blog and/or amazon is appreciated but not required.
*If, for whatever reason, the Rafflecopter widget does not appear, you can click on the link and it will show up, sorry for the inconvenience.)
a Rafflecopter giveaway