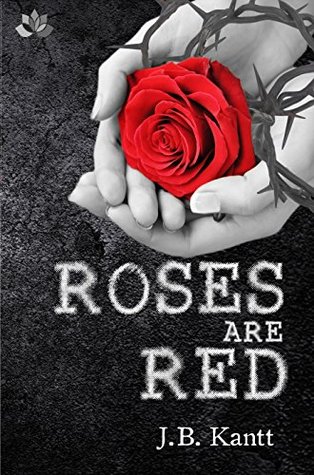 Roses Are Red (The Blood, Sweat and Tears Series Book 1) by J.B. Kantt
After her foster mother's unexplained death six months ago, fourteen-year-old Isla Timearth just wants things to go back to normal for her and her twin brother, Monty. But "normal" can only go so far for a closed-off girl with abandonment issues and an anxious boy that gets frequent nosebleeds. Still, the troubled redheads give it a shot by returning to the summer camp they've been going to for years.
Aside from her crush showing up unexpectedly, the summer starts out as Isla expected: she participates in multiple activities with her friends, while her brother shies away from doing anything with anyone. But camp traditions get rained on when their biological mother shows up unannounced and, as far as Isla's concerned, unwelcome.
Knowing that Mother Nature is the mother of all mood swings, Isla isn't all that surprised to find out that her temperamental biological mother is the terrestrial goddess. What does surprise her is that Monty, the favorite twin, already knew but never told her. Despite being annoyed that such a huge secret was kept from her, Isla has always questioned the loyalty of her own flesh and blood. But once more family secrets start to unravel around her fellow campers, Isla finds out whether blood really is thicker than water.
Author stalk away: ~
site
~
twitter
Buy it:
--The Twitter version: tell us about your book in 140 characters or less.
Isla finds out her bio mom is Mother Nature. Her twin brother already knew but never told her. This leads to unraveling more family secrets.

--How did you get the idea for the story?
I was actually inspired by an anime called Black Butler. It was one specific scene towards the end of the series that sparked the idea for Roses Are Red. I won't give away what that scene was because I don't want to spoil it for those who plan on reading Roses Are Red and/or plan on watching Black Butler.
--Which character would you most/least like to have dinner with?
I'd most like to have dinner with Jonah Park. I think his sense of humor would keep the dinner from ever getting boring.
--Do you have any other works in progress? Any teasers or release dates?
While I've created an (disorganized) outline for the sequel to Roses Are Red, I'm thinking about writing the first book in a completely different series before I write the sequel. I unfortunately don't have any teasers or release dates yet for those.
--What are some of your favorite books? Do you still have much time to read?
My two favorite books are To Kill a Mockingbird by Harper Lee and You Don't Know Me by David Klass. Unfortunately between school, extracurricular activities, and trying to find time to write, I don't have that much time to read.
--Do you need anything to write (music, coffee, etc)? Are there any songs on your
playlist- songs that inspired you or that were playing while you wrote?
I usually need to have some kind of background noise when I write. It's usually music, but sometimes it's the TV. I don't have any specific songs, per se. As long as the song isn't too distracting (i.e. I don't want to sing-a-long), I can usually listen to it while I write.

--If you could have any superpower what would you choose?
I would choose the ability to fly, because then I could go anywhere at anytime without having to sit in traffic or wait for a scheduled time to leave.


--Besides writing, what do you like to do in your free time?
When I'm not writing, I love to volunteer with kids and practice taekwondo in my free time.
--What is one thing you would tell your 15 year old self?
I would tell my fifteen-year-old self that my career goals will change once I'm in college. They may or may not be what people expect of you, and that's okay.


--Is there anything else you want to add or say to your readers?
Thank you so much for giving my work a chance!
Lightning round: this or that?
Vanilla or chocolate?
Vanilla
Video or Board Games?
Video Games
Summer or Winter?
Winter
Edward or Jacob?
Jacob
Hockey or soccer?
Soccer
Ebook or paper?
Paper
Salty or sweet?
Sweet
Beach or mountains?
Beach
Phone call or email?
Email
Early bird or night owl?
Night Owl
Dog or cat?
Dog
Messy or neat?
Neat
Ninjas or pirates?
Ninjas
Giveaway is for: Ebook of Roses Are Red by J.B. Kantt (Int)
If under 18, must have parent's permission.
No Purchase Necessary
Open: 6/26-7/17
The Sponsor: author
Winners will be chosen by giveaway host and notified by email. They will have 48 hours to respond.
Email addresses or physical addresses or any personal information will not be sold
Liability: Brandi Breathes Books is not responsible for lost or stolen packages
Brandi Breathes Books Giveaways are hosted in Holly Springs, NC USA
Void where prohibited by law
-If you win a review on your blog and/or amazon is appreciated but not required.
*If, for whatever reason, the Rafflecopter widget does not appear, you can click on the link where it says rafflecopter giveaway and it will show up, sorry for the inconvenience.