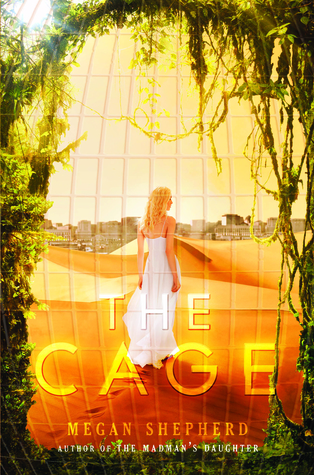 The Cage by Megan Shepherd
The Maze Runner meets Scott Westerfeld in this gripping new series about teens held captive in a human zoo by an otherworldly race. From Megan Shepherd, the acclaimed author of The Madman's Daughter trilogy.
When Cora Mason wakes in a desert, she doesn't know where she is or who put her there. As she explores, she finds an impossible mix of environments—tundra next to desert, farm next to jungle, and a strangely empty town cobbled together from different cultures—all watched over by eerie black windows. And she isn't alone.
Four other teenagers have also been taken: a beautiful model, a tattooed smuggler, a secretive genius, and an army brat who seems to know too much about Cora's past. None of them have a clue as to what happened, and all of them have secrets. As the unlikely group struggles for leadership, they slowly start to trust each other. But when their mysterious jailer—a handsome young guard called Cassian—appears, they realize that their captivity is more terrifying than they could ever imagine: Their captors aren't from Earth. And they have taken the five teenagers for an otherworldly zoo—where the exhibits are humans.
As a forbidden attraction develops between Cora and Cassian, she realizes that her best chance of escape might be in the arms of her own jailer—though that would mean leaving the others behind. Can Cora manage to save herself and her companions? And if so . . . what world lies beyond the walls of their cage?
Publishes in US: May 26th 2015 by Balzer+Bray/HarperCollins
Genre: ya scifi
Source: Harper Teen via Edelweiss
Series?
The Cage #1
Untitled (The Cage, #2)
Expected publication: 2016
Buy it:
Amazon
Barnes & Noble
Book Depository
Author stalk away: ~
site
~
twitter
~
facebook
~
blog
I wanted to read The Cage because it sounded like a new take on the fantasy/dystopia genre, with the teens being captive by another species. I liked the sound of the forbidden romance aspect, that is always something that gets my attention. And plus the cover is stunning and as shallow as I know that sounds, that is always a big plus.
I liked Cora, one of the main characters right away. Even though we find out that she has been in a detention center, accused of manslaughter, she just seemed like a normal person. I wanted to find out what was going on, and in the next chapter we meet Lucky, who obviously knows pieces to that past. But they are together, with killer headaches, in a strange terrain where its snowy, desert, and ocean all in walking distance of one another. They are in strange clothes and have no idea how they ended up there. And to top it off, they are faced with a dead body that neither knows anything about.
With the taste of who the characters are, the strange place they've shown up, the hints of the mystery in their past, the first few chapters were certainly enough to have me hooked. Cora was on her way to the mountains with her parents and brother, both of which she seems to cherish, but Lucky thinks of them differently. All I know is that his mom is dead and Lucky is angry with her dad, and he feels a lot of guilt for something. But that can't even be their first priority. Its the dead girl, shelter, and figuring out their new reality.
It was interesting to get to know the secondary characters, the Caretaker aka Cassian with whom we see the forbidden budding romance with Cora, seeing his soft spot for her, and trying to figure out his motivations, as well as the numerous agendas and other humans they have set up. Nok, the other living girl and Rolf and Leon all have different pasts, strengths and weaknesses, and its neat when they are working together. But they can't help but doubt one another and wonder if the others are somehow a plant or working against them.
The love triangle was kinda weird, with the forbidden romance and then the connection and somewhat chemistry with her and Lucky. I hope that it goes one way or the other sooner rather than later though.
Cora was very strong and determined. She was also always thinking of others even after they'd hurt her, or even if she made sacrifices for them. She wouldn't accept the cage, and didn't want to accept that earth could be gone for good. She wanted to escape and she fought the whole time for that.
There were a lot of twists and surprises at the end, and I almost predicted a few things, but most blind sided me. I will be continuing the series, and can't wait to find out what happens next.
Bottom Line
: Fast paced with a unique premise.
My question to you, my lovely readers:
Are you any good at mazes?