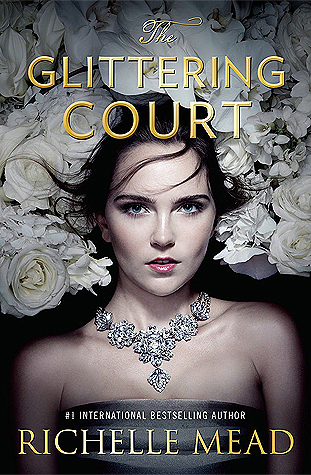 The Glittering Court (The Glittering Court #1) by Richelle Mead
Big and sweeping, spanning from the refined palaces of Osfrid to the gold dust and untamed forests of Adoria, The Glittering Court tells the story of Adelaide, an Osfridian countess who poses as her servant to escape an arranged marriage and start a new life in Adoria, the New World. But to do that, she must join the Glittering Court.
Both a school and a business venture, the Glittering Court is designed to transform impoverished girls into upper-class ladies who appear destined for powerful and wealthy marriages in the New World. Adelaide naturally excels in her training, and even makes a few friends: the fiery former laundress Tamsin and the beautiful Sirminican refugee Mira. She manages to keep her true identity hidden from all but one: the intriguing Cedric Thorn, son of the wealthy proprietor of the Glittering Court.
When Adelaide discovers that Cedric is hiding a dangerous secret of his own, together they hatch a scheme to make the best of Adelaide's deception. Complications soon arise—first as they cross the treacherous seas from Osfrid to Adoria, and then when Adelaide catches the attention of a powerful governor.
But no complication will prove quite as daunting as the potent attraction simmering between Adelaide and Cedric. An attraction that, if acted on, would scandalize the Glittering Court and make them both outcasts in wild, vastly uncharted lands…
Publishes in US:
April 5th 2016 by Razorbill
Genre: ya fantasy
Source: bought
Series?
The Glittering Court #1
no info on next books releases
Each book in the trilogy is self-standing and told from the point of view of one of three girls as they travel to and experience life in the New World, becoming enmeshed in her own adventures and romantic intrigues while also playing a role in her friends' stories—often in ways that aren't obvious until the series is complete.
My other Richelle Reviews:
#1

Storm Born

#2

Thorn Queen

#3

Iron Crowned #4 Shadow Heir
Bloodlines
series
Vampire Academy series
Soundless
Gameboard of the Gods
1-
Succubus Blues
2-
Succubus on Top
3-
Succubus Dreams
4-
Succubus Heat
5-
Succubus Shadows
6
Succubus Revealed
Buy it:
Amazon
IndieBound
Book Depository
Barnes and Noble
Author stalk away:
site
twitter
facebook
blog
I want to read the glittering court because I love everything that made is written so far that I've tried and hoped this wouldn't be an exception.
We begin the book in the head lady Witmore Countess of Rothford and her family has landed on pretty hard times. she is about to have to marry a cousin that she is really not looking forward to being with and a life of being a lady married to someone she barely knows.
As part of the marriage she has to get rid of half of her staff and she hears a man named Cedric telling Ada the staff was about to be let go about the glittering Court which is a school that prepares women usually servants or people who have fallen on hard times and this land to go to another country where a lot of men have earned their riches but want to marry women back home but are outnumbered three-to-one. The lady is very interested in this prospect of education and a new place to live rather than being saddled with an age-old title in a marriage she doesn't want to be in.
I got swept up in her character, the decisions she made, the friendships that she formed, the strength in adversity that she demonstrated. I liked the fledgling romance but I had a hard time committing fully because I didn't know if it was just attraction or if there was any way that it could work out. I did keep hope alive, and I liked how it ended up working out. Even though there were some elements that seemed to come together too easily, and then others that seemed so transparent that I wished they would open their eyes.
I did like how her strength carried through, and even though her circumstances changed from many extremes, she found ways to be herself.
The comparisons to The Selection and The Jewel are valid, and there are the similarities of the women all in running for a change in social status. It stood on its own with the elements of the new world, and the adventure aspect.
I liked the book and will definitely read more. I imagine that the next will focus on Tamsin or Mira, and I liked the friendship and the intrigue of the others.
Bottom Line
: Enjoyable and readable.
My question to you, my lovely readers:
Could you leave behind nobility to start over in new land?