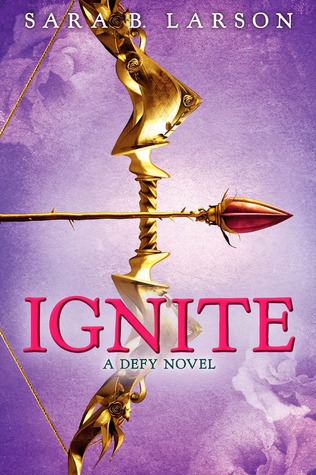 Ignite (Defy #2) by Sara B. Larson
Murder, abductions, and forbidden romance abound in this thrilling sequel to Sara B. Larson's acclaimed YA debut, DEFY.
Alexa remains by the newly crowned King Damian's side as his guard, ever committed to helping him rebuild Antion and reclaim the hope of Antion's people, despite continuing to harbor a secret love for him. However, when another threat to Damian and his kingdom emerges, and blame is cast on their newly forged allies from Blevon, Alexa knows things are not what they seem. With the fate of her nation hanging in the balance once again, will Alexa be able to protect her king and uncover the true enemy—before it's too late?
Publishes in US: december 30th 2014 by Scholastic Press
Genre: ya fantast
Source: library
Series? yes
My review of #1
Defy
Endure (Defy, #3)
is already out
Buy it:
AMAZON
B&N
The King's English (Signed/personalized copy)
Author stalk away:
Website
|
Twitter
|
Goodreads
Facebook
Karen at
For What It's Worth
and Mary at
The Book Swarm
occasionally post twitter-style reviews. Karen calls hers Short and Tweet, and I am going to borrow that review style here.
I wanted to read Ignite because I enjoyed the first one, the strong main character in Alexa. I didn't really remember much from the first book besides that, but this one drew me in well. It gave enough recall in a natural way so that details came back.
my tweet (longer) review
Alexa is still guarding the king, the man she loves, but pretending like that's not an issue. I love how this continued and the romance arch was great. And it was a new dynamic since everyone knows that Alex is Alexa now. I got caught up in the book again and will def be continuing. There are so many challenges they had to overcome and mysteries to solve in this one. A good amount was solved and there was def enough questions and things that I will definitely continue.
My question to you, my lovely readers:
Ever thought about or joined the service?