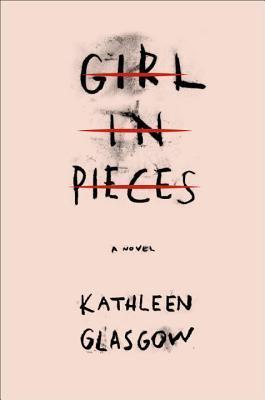 Girl in Pieces by Kathleen Glasgow
Charlotte Davis is in pieces. At seventeen she's already lost more than most people lose in a lifetime. But she's learned how to forget. The thick glass of a mason jar cuts deep, and the pain washes away the sorrow until there is nothing but calm. You don't have to think about your father and the river. Your best friend, who is gone forever. Or your mother, who has nothing left to give you.
Every new scar hardens Charlie's heart just a little more, yet it still hurts so much. It hurts enough to not care anymore, which is sometimes what has to happen before you can find your way back from the edge.

Publishes in US:
September 6th 2016 by Delacorte Press
Genre: ya contemp heavy
Source: Delacorte via Netgalley
Disclaimer
: I received this book as an ARC (advanced review copy). I am not paid for this review, and my opinions in this review are mine, and are not effected by the book being free.
Series? no
Buy it:
Amazon
IndieBound
Barnes and Noble
Author stalk away: ~
site
I wanted to read Girl In Pieces because I am drawn to the stories about mental illness and this one is about a cutter who is currently in treatment. Honestly though, I almost didn't want to stick with it because it is not in a traditional format. The "chapters" are short, generally a page or less, and it is almost like diary entries. I am not always so much on that sort of format, but it did catch my attention.
The intensity, emotions and eventual road to healing, understanding and some sort of life after recovery are all themes explored and what are universal in this type of story, and what kept me from not finishing.
Charlotte begins by mostly telling us about the others in treatment and group with her, and this works because we see what she notices, what of herself or her past that she latches on to. I felt for her, and its hard to see someone struggle with pain and depression and loss in these destructive ways.
Bottom Line
: Worth a go round if the subject interests you.