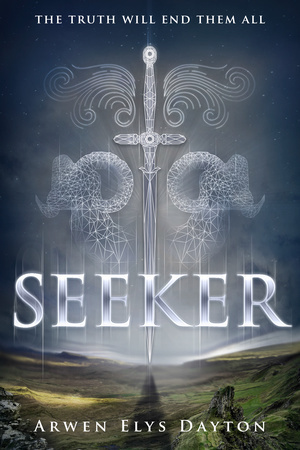 Seeker (Seeker #1) by Arwen Elys Dayton
For readers of A Game of Thrones and The Hunger Games comes an epic new series.
The night Quin Kincaid takes her Oath, she will become what she has trained to be her entire life. She will become a Seeker. This is her legacy, and it is an honor. As a Seeker, Quin will fight beside her two closest companions, Shinobu and John, to protect the weak and the wronged. Together they will stand for light in a shadowy world. And she'll be with the boy she loves--who's also her best friend.
But the night Quin takes her Oath, everything changes. Being a Seeker is not what she thought. Her family is not what she thought. Even the boy she loves is not who she thought.
And now it's too late to walk away.
Publishes in US:
February 10th 2015 by Delacorte Books for Young Readers
Genre: ya fantasy
Source: netgalley
Series?
Seeker #1
Buy it:
Amazon
Barnes & Noble
IndieBound
Book Depository
Author stalk away: ~
site
Stopped at 7%
It's not you: It's me: my DNF (did not finish) pile.
I am a reader. Love books, fantasy, contemporary, I love guys that I can connect with, that I wish were making me swoon instead of what's her name. I long for heroines who are both a lot like me, or that kick butt in ways that I can't ever hope to. I am decent at picking out what I will like based on synopsis, publisher, reviews, etc.
However, I am also a reader. I am emotional, life stresses me out. And we all know how that goes. I may have a bad day and not absolutely melt for the character that my blogger buddy just fell head over heels for. I may try again in six months or a year, and have a whole new mood, perspective into a character or find said hero absolutely amazing, give me more right now.
That said, It's me. Not you. Really!
I wanted to read Seeker because the combo of the genre as well as the comparison to The Hunger Games. For me, I need to connect with the character before I am thrown into much action, especially training and sword play. I am a character development and romance lover, and neither grabbed me quickly enough.
That isn't to say that the writing is poor or the characters are poorly constructed, it's personal on my end.
Positive Reviews:
Fictional Reader
Two Chicks on Books
Saving June by Hannah Harrington
'If she'd waited less than two weeks, she'd be June who died in June. But I guess my sister didn't consider that.'
Harper Scott's older sister has always been the perfect one so when June takes her own life a week before her high school graduation, sixteen-year-old Harper is devastated. Everyone's sorry, but no one can explain why.
When her divorcing parents decide to split her sister's ashes into his-and-her urns, Harper takes matters into her own hands. She'll steal the ashes and drive cross-country with her best friend, Laney, to the one place June always dreamed of going, California.
Enter Jake Tolan. He's a boy with a bad attitude, a classic-rock obsession and nothing in common with Harper's sister. But Jake had a connection with June, and when he insists on joining them, Harper's just desperate enough to let him. With his alternately charming and infuriating demeanour and his belief that music can see you through anything, he might be exactly what she needs.
Except June wasn't the only one hiding something. Jake's keeping a secret that has the power to turn Harper's life upside down again.
Publishes in US:
November 22nd 2011 by Harlequin Teen
Genre: ya contemp suicide
Source: library
Series? no
Buy it:
Amazon
Barnes & Noble
IndieBound
Book Depository
Author stalk away:
site
blog
twitter
goodreads
Positive Reviews:
Alise at Readers in Wonderland
Giselle at Xpresso Reads
DNF- maybe not in the mood, but I didn't connect with Harper. I feel like I have read it too much lately maybe and I just read a suicide book, so like I said, it's not you, Saving June, its me. It had the requisite first cigarette bummed off of mysterious bad boy who just happened to appear and have a secret.
Stopped at_8%
My question to you, my lovely readers:
Have you ever gotten involved in something that wasn't what it seemed at first?