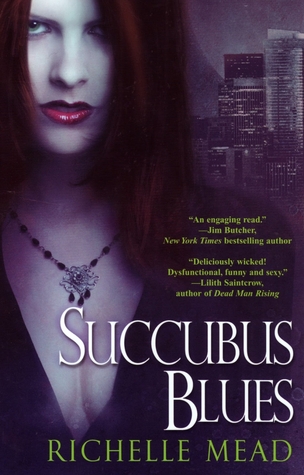 Succubus Blues (Georgina Kincaid #1) by Richelle Mead
When it comes to jobs in hell, being a succubus seems pretty glamorous. A girl can be anything she wants, the wardrobe is killer, and mortal men will do anything just for a touch. Granted, they often pay with their souls, but why get technical?
But Seattle succubus Georgina Kincaid's life is far less exotic. At least there's her day job at a local bookstore--free books; all the white chocolate mochas she can drink; and easy access to bestselling, sexy writer, Seth Mortensen, aka He Whom She Would Give Anything to Touch but Can't.
But dreaming about Seth will have to wait. Something wicked is at work in Seattle's demon underground. And for once, all of her hot charms and drop-dead one-liners won't help because Georgina's about to discover there are some creatures out there that both heaven and hell want to deny.
Publishes in US: M
arch 1st 2007 by Kensington
Genre: adult urban fantasy
Source: library
Series?
Georgina Kincaid #1
Buy it:
Amazon
,
B&N
,
BAM
,
IndieBound
,
Bookish.com
,
Target
,
Walmart
Kensington
Author stalk away:
site
twitter
facebook
blog
Okay, so this is one of my first forays into the world of adult literature (besides my fantasy from late middle school and early high school of Wheel of Time by Jordan), and certainly into the urban fantasy genre. I have heard a lot about this series, and I adore Vampire Academy and Bloodlines, Richelle's young adult series, so she seemed a natural choice for my experiment.
Admittedly it took me a good chapter to get into it, but I also remember that VA started a bit slowly for me and then I fell in love, feeling like each book got even better. Georgina is an easy character to like, she is a strong and confident woman, and she works in a bookstore. She has a love of reading and that will give an automatic in for the readers because I def can relate with that.
It took me a bit to fully understand the succubus set up and exactly how it works for her. I mean, I know the basics, but I didn't get the difference for her with the virgin and how that lit her up whereas talking about her time with a boss only gave a little bit of life into her.
Her fave author is a fictional Seth and she ends up flirting with him without knowing it was him during a shift at the bookstore, and this creates a great tension. He is shy and not at all what Georgina had pictured--charismatic, good with people and full of wit. But she is drawn to how he really is--taking a while to get warmed up and more of a subtle humor.
I am so glad that the guy I pulled for more turned out not to be what I suspected one of then to be. Even with my suspicions when it was revealed, it was still a shock.
I loved the setting, it def makes me want to visit Seattle and wander around side of the places mentioned. Her working at the bookstore was.Also a pleasant environment.
I loved the depth of the secondary characters and am excited to find out more about then in the rest of the series. There are Carter the angel who still hangs with Jerome who is a demon and Georginas boss. Doug who is the other manager and also a rocker in his off time. Seth is the author I mentioned earlier and Roman is the other love interest. He is charming, good looking and shares a lot of the same interests. Not to mention Hugh, and Cody.
The ending was pretty darn amazing and I love one of Carters last lines to Georgina and just made the whole book even more awesome and I can't wait to read more.
Bottom Line
: was pleasantly surprised at my enjoyment of my first uf. Will be reading more about Georgina.
My question to you, my lovely readers:
Do you like to attend author tours? Do you think that you ask unique questions?