The Winner's Crime (The Winner's Trilogy #2) by Marie Rutkoski
Book two of the dazzling Winner's Trilogy is a fight to the death as Kestrel risks betrayal of country for love.
The engagement of Lady Kestrel to Valoria's crown prince means one celebration after another. But to Kestrel it means living in a cage of her own making. As the wedding approaches, she aches to tell Arin the truth about her engagement…if she could only trust him. Yet can she even trust herself? For—unknown to Arin—Kestrel is becoming a skilled practitioner of deceit: an anonymous spy passing information to Herran, and close to uncovering a shocking secret.
As Arin enlists dangerous allies in the struggle to keep his country's freedom, he can't fight the suspicion that Kestrel knows more than she shows. In the end, it might not be a dagger in the dark that cuts him open, but the truth. And when that happens, Kestrel and Arin learn just how much their crimes will cost them.
Publishes in US:
Published March 3rd 2015 by Farrar Straus Giroux
Genre: YA fantasy
Source: library
Series?
The Winner's Trilogy #2
my review of Winner's Curse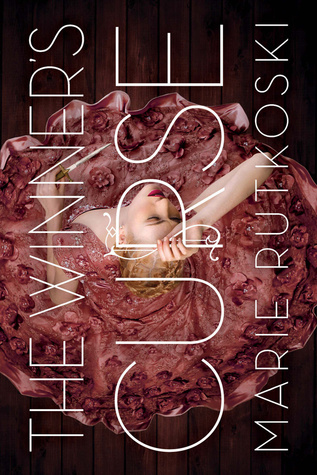 The Winner's Kiss (The Winner's Trilogy #3)
Expected publication: 2016 by Farrar Straus Giroux
Buy it:
Author stalk away:
Author Website
The Winner's Curse Website
Author Twitter
blog
facebook
I wanted to read this one because I enjoyed Kestral in the first one. She is smart and after falling in love with Arin, a slave, she negotiated for his and his people's freedom but in return she was to marry the emperor's son, a marriage that she wasn't the most keen on. The emperor is a powerful and smart man, and he can sense her reluctance, but he also sees how smart she is, and how she can manage situations, balancing power, and the needs of both sides.
There was a nice, integrated part that helped me to catch up and remember the fuller story of the first book. Kestral is trying hard to balance her new world and giving solutions to the emperor that will save more people, but she still feels an incredible amount of guilt. She is keeping a secret how much she sacrificed for Arin, even though she is realizing the high cost.
Arin wants to believe the best in her, but the rumors that he keeps hearing and what he sees on the surface isn't keeping his confidence in her up. He tries to convince himself and when they find themselves together the chemistry is still undeniable.
The prince, Vextrel is also trying to figure out Kestral's angle, and the extent that he is being used. I ended up liking him more than I thought I would but he is just sitting back allowing so much, I still held a discontent for him.
Things kept building and the plot getting thicker. I enjoyed the book even though I wasn't expecting some of the plot twists. The ending wasn't a cliffie per say, it ended in a decent spot, but I do want to know what happens next and how Arin and Kestral will play the hands given.
Bottom Line
: Enjoyed the second installment.
My question to you, my lovely readers:
Could you enter in arranged marriage for the freedom of someone else?