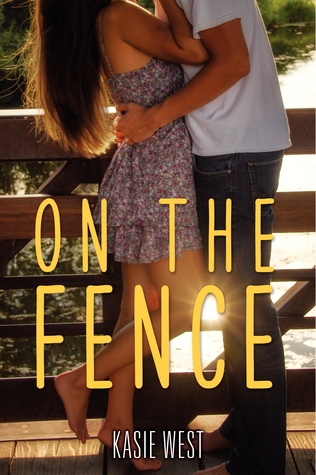 On the Fence by Kasie West
She's a tomboy. He's the boy next door…
Charlie Reynolds can outrun, outscore, and outwit every boy she knows. But when it comes to being a girl, Charlie doesn't know the first thing about anything. So when she starts working at a chichi boutique to pay off a speeding ticket, she finds herself in a strange new world. To cope with the stress of her new reality, Charlie takes to spending nights chatting with her neighbor Braden through the fence between their yards. As she grows to depend on their nightly Fence Chats, she realizes she's got a bigger problem than speeding tickets-she's falling for Braden. She knows what it means to go for the win, but if spilling her secret means losing him for good, the stakes just got too high.
Fun, original, and endearing, On the Fence is a romantic comedy about finding yourself and finding love where you least expect.
Publishes in US:
July 1st 2014 by HarperTeen
Genre: YA contemp
Source: Harper Teen via Edelweiss
Series? No
Buy it:
Amazon
•
Barnes & Noble
•
Kobo
•
iBookstore
Author stalk away:
~
site
~
twitter
I wanted to read On The Fence because I was in the need for a summery read plus the fact that I have liked Kasie West's characters and writing style from her paranormal books.
The dynamic between Charlie, our tomboy main character and her brothers is so endearing. They are like an amoeba, where one is, you'll find the rest. They have folded into their circle of boyhood, wrestling with her, playing sports no holds barred with her, and letting her be with them all the time. Part of this group of guys is next door neighbor Braden, who is an only child and loves the inclusion. He has a dad who he dubs jerk and him getting out of the house when dear dad comes home drunk is what leads him to be out so late at night to begin the fence talks with Charlie.
And yes, we can all see where this is going. But I liked how they had a friendship first, and they were aware that if things changed, it would effect more than herself. But I like that as they have the deep conversations at night, she is working out things about herself and her mom who died when she was little. They have this deeper connection and it makes me smile.
Charlie's dad was also present. He was awkward a lot of the time, but he was at least trying. Red in the face talking about conditioner and bras, doing what men shouldn't have to do. I also like that he was in on some of the nerf action. Speaking of, I love the playful nature of the house. That and how the dares kept things adventurous and deepened their bonds.
Through her job she is also getting in touch with parts of herself that she didn't before. That she could be a little girly and it wouldn't be the end of the world. What I think the most important message was though is how she learned to be herself. That she could be girly or wear makeup if she wanted, but that she shouldn't have to be fake or only show half of who she was in order to be liked.
The light nature to the book was also good. Because even though it had some rough subject matter--drunk dads and dead moms--it was dealt with and still managed to focus on the now. Being able to push through, showing your strength and at the same time vulnerability to open up to someone else and share feelings, to lean on them and to get through.
The ending was sweet and nice, but I couldn't help putting down the book and wanting to get more time in their chemistry, in the sureity of their relationship, with others knowing, with their hearts a little less confused.
Bottom Line
: Fun, fast and light with slow romance that was sweet.
My question to you, my lovely readers:
Did you ever have a hot next door neighbor?