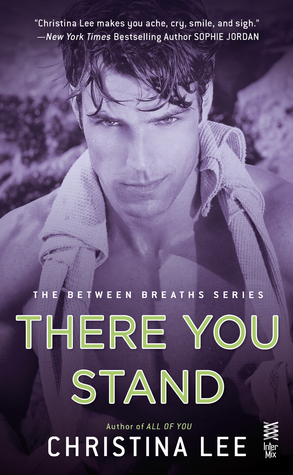 There You Stand (Between Breaths #5) by Christina Lee
From the author of All of You and Before You Break comes a new Between Breaths male/male standalone romance about the silent, inked up skateboarder and the tattoo artist who unravels him piece by piece…
Tattoo artist Cory Easton has worked long enough at Raw Ink to know, just by looking at a dude, what his body art reveals, what makes him tick, what even makes him scared. Until he meets the quiet and remote Jude York—so unreadable, so unreachable, and so unlike anyone else, he can't help but arouse Cory's curiosity.
As captivating and complex as his ink, Jude is a mystery—and Cory's falling fast and hard under his spell. Against his better judgment to steer clear.
The rumors of Jude's past overshadow him—whispers of prison and an unmentionable secret that's kept him in the protective shadows of a local motorcycle club. As Cory probes deeper, he wonders how much he really wants to know. Especially since Jude has awakened something inside him that has been buried too long—and has him feeling completely alive for the first time in forever…
Publishes in US:
April 21st 2015 by Penguin/InterMix
Genre: NA contemp
Source: Netgalley
Series?
Between Breaths #5
My Reviews of others in series:
Before You Break
All of You
Whisper to Me
Promise Me This
Buy it:
Amazon
IndieBound
B&N
Book Depository
Author stalk away:
~
site
~
twitter
~
facebook
I wanted to read There You Stand because I have enjoyed all of the other books by the author Christina Lee that I have read so far. I like her writing style as well as the romances and characters that she crafts.
The main character Cory is easy to like. He had some rough stuff in his past, including losing his lover in a motorcycle crash. But he has started working at raw ink with some of the characters from the companion novels. He keeps busy to keep from thinking about his loss of live as well as most of his family. Besides his voice and out going personality, what endeared him to me the most was his close relationship with his grandma. He works about her health and she is always an open ear for him and encouraging him too find a nice guy. She has always been open to him being gay and always supportive. I has a really close knit bonds with my grandma and she also had a huge role in my life helping to raise me and being my number one fan.
He has been crushing on the mysterious new guy to town Jude. He is extremely quiet and has quite the rumor mill that followed him into town. Cory has two dogs and walks them pretty much daily. On his route is the place where Jude skates all of the time. They get a crash introduction with Cory's hyper dog chopper who took an immediate liking to Jude.
Cory feels instant sparks but he doesn't know if he is imagining the connection because no word of Jude's sexual preference was included in the rumors. But the two keep running into each other, at the motorcycle bar, when Jude comes into the shop to get Cory to tattoo his back. Which turns out to be covered in scars which is the first clue we get into the truth of his troubled past.
Of course the chemistry builds but it is slower because not only is Jude quieter, he also is not wanting to bring Cory into his trouble. But the more they talk and keep finding each other, the more it is obvious that Cory isn't the only one feeling the attraction. This one is definitely up there on the scorching hot scale and though this isn't my first lgbtq novel, I do think it is most descriptive in the bedroom.
They end up sharing their losses and Jude certainly had good reason for keeping to himself until he was sure because I didn't see the depth and complexities of his situation coming though I did guess some of the details.
I was happy with the way their story ended and though I wouldn't mind another story on them I feel like the plot was pretty tied up and left them at a good place.
Bottom Line
: Scorching hot addition to series with two more characters I enjoyed.
My question to you, my lovely readers:
Do you have any ink?