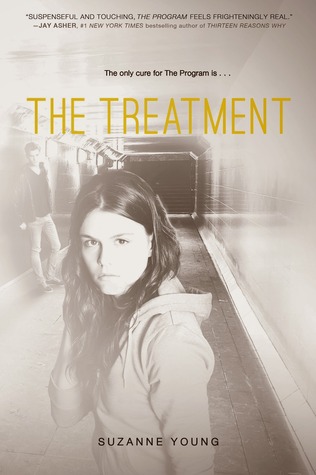 The Treatment (The Program #2) by Suzanne Young
Can Sloane and James survive the lies and secrets surrounding them, or will The Program claim them in the end? Find out in this sequel to The Program, which Publishers Weekly called "chilling and suspenseful."
How do you stop an epidemic?
Sloane and James are on the run after barely surviving the suicide epidemic and The Program. But they're not out of danger. Huge pieces of their memories are still missing, and although Sloane and James have found their way back to each other, The Program isn't ready to let them go.
Escaping with a group of troubled rebels, Sloane and James will have to figure out who they can trust, and how to take down The Program. But for as far as they've come, there's still a lot Sloane and James can't remember. The key to unlocking their past lies with the Treatment—a pill that can bring back forgotten memories, but at a high cost. And there's only one dose.
Ultimately when the stakes are at their highest, can Sloane and James survive the many lies and secrets surrounding them, or will The Program claim them in the end?
Publishes in US:
April 29th 2014 by Simon Pulse
Genre: YA Scifi
Source: library
Series?
The Program #2
Buy it:
Goodreads
|
Amazon Print
|
Amazon Kindle
|
Barnes & Noble
IndieBound
Book Depository
Author stalk away:
site
Blog
|
Twitter
|
Facebook
|
Goodreads
I wanted to read The Treatment because I really enjoyed The Program. At this point, I don't remember a whole lot except I loved Sloane and James as a couple. The chemistry and the way they were so comfortable and open with each other was great to read about. Also, the issues of mental illness and suicide, bringing up questions like what is normal? What's risky behavior? Can suicide be prevented with erased memories? And then there was the whole mystery of Realm, the guy who protected Sloane and seems to have a few answers where everyone else only seems to have questions.
The Program erases the memories of teens, and they are considered cured. But its cruel and when you come out, huge pieces of your life are missing. So, Sloane and James are on the run. I know there is a whole sector of us who really don't enjoy the on the run books that seem to follow this sort of story line. I have liked the first books more by a huge margin in these cases, but went in hopeful that it would be different.
James and Sloane are together just as I remember them in the first. They have questions and they are found by the rebels and they hope to bring the Program down. They have one single pill that Realm said could bring back lost memories, but Sloane is afraid of the risk of death, and James won't take it because it is Sloane's and he wants her to. So they keep it while they are newly joined with the rebels and getting the lay of their land. I think that the point they are meant for each other and seem to be destined to be together.
Realm. Oh my gosh. He annoyed me so much and I hated him most of the time. But he does do a lot, he's saved people and gives a lot. He gives so much to Sloane even if he's kept a lot from her that she doesn't remember. His lies and secrets as well as some of his advances made me want to smack him. I really think the love triangle thing could have been cut out. I know that he's offered a lot to Sloane as well as given them leverage and also the pill. And I know that him loving her is the perfect stage for it, and Sloane would have to have had some feelings for him or he'd have no reason to help. But still, I just wish that it didn't exist so that there would be no doubts on the love between Sloane and James, because for me that has been some of my favorite aspects of these books.
There were other characters that were introduced as well as repeat performances from some old buddies. I liked Dallas especially, she is such a fighter and survivor, even if she can be stand-offish and cold at first, but she has to let others gain her trust and she has more than enough reason for the way she is.
The whole premise is chilling, and I like the reveals in this book, and what is finally done to take down The Program. Call it a spoiler if you want, but really, what else can you expect going in. The way they succeeded and some of the people that helped as well as some of the people who ended up working against them were twists and surprised me at times. Other characters you just got what you expected, and that's great to add some balance. This series has been laced with tragedy and sadness, but I think that the romance, devotion, friendship, fierce fight for freedom and to survive in general seems to balance the scales and while I felt for and with the characters, it didn't leave me depressed.
The ending was satisfying but I think a few things were a little rushed. It is not perfect ending, and it doesn't give each character a HEA, but I have enough that made me happy, and have hope for Sloane as well as her love for James.
Bottom Line
: Satisfying ending to exciting and romance laced duology.
My question to you, my lovely readers:
Would you take a pill to get back your memories if chances are it could kill you?