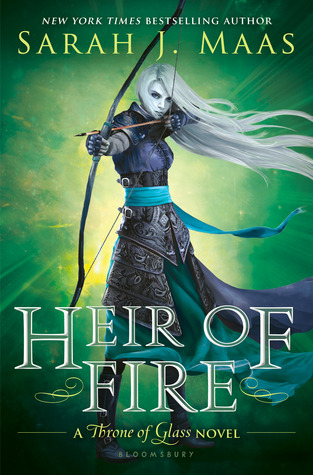 Heir of Fire (Throne of Glass #3) by Sarah J. Maas
Lost and broken, Celaena Sardothien's only thought is to avenge the savage death of her dearest friend: as the King of Adarlan's Assassin, she is bound to serve this tyrant, but he will pay for what he did. Any hope Celaena has of destroying the king lies in answers to be found in Wendlyn. Sacrificing his future, Chaol, the Captain of the King's Guard, has sent Celaena there to protect her, but her darkest demons lay in that same place. If she can overcome them, she will be Adarlan's biggest threat – and his own toughest enemy.
While Celaena learns of her true destiny, and the eyes of Erilea are on Wendlyn, a brutal and beastly force is preparing to take to the skies. Will Celaena find the strength not only to win her own battles, but to fight a war that could pit her loyalties to her own people against those she has grown to love?
Publishes in US: September 2nd 2014 by Bloomsbury USA Childrens
Genre: YA fantasy
Source: Bloomsbury via Netgalley
Series? Yes.
Throne of Glass #3
my review of #1
Throne of Glass by Sarah J. Maas
#2
Crown of Midnight by Sarah J. Maas
Buy it:
Amazon
,
Barnes & Noble
,
IndieBound
,
iBookstore
,
Kobo
, or
Audible
!
Author stalk away:
~
site
~
twitter
~
facebook
~
blog
I wanted to read Heir of Fire because I really enjoyed the first two and really wanted to know what would happen with Celaena next. I love her with Chaol, but I also liked the scenes with her and Dorian so I am a bit torn there. I miss Nehemiah right along with C and am very wary of her chasing revenge and what that will take her into.
We meet some new characters in this one as well as getting a different look at some old faves. I don't remember the last books being 3rd POV but it works for this one because of how it is tying so many things together. Although we don't stay exclusively with C in this one, I tolerated the other views because it gave me insight into what is going on with Chaol and Dorian while she is off.
Even though I skimmed a recap on Recaptains, I was still a bit lost. There was some really good and naturally incorporated recap in the first part, but I am just a little scatterbrained (okay, you got me, its a LOT) so I have a hard time with recall. It did effect my reading experience a bit for the first 10% or so and then I just kinda forgot or filled in pieces enough to really be immersed into the story. I admit though the witch POV in this one wasn't exactly my thing, but I did come to like her especially when the Abraxos wyvern plot came into play.
Rowan. Wow, Rowan. He infuriated me at first, just as he did Celeana who others call Aelin because of the whopper that was the end of Crown. But as the layers came back some while he was working with her, I came to like him more and more. There was some chemistry at times between them I though and then other times it was more like brother sister bickering but also the connection. So, speaking of this... I think that Dorian is out of the picture based on the ending of last book, and I am totally not sure about her and Chaol because of the ending of Crown again, but as much as she thought of him, I would say that he's still in the running. So it is a love square, or I guess a triangle again, since we're not sure about Rowan if he's more of a bro or possible love interest. I hope that this is solved, but another part is kind of savoring the build up.
A lot happened in this one, throwing more monkey wrenches into the plot but other things are starting to come together. Though I know this is only the third book out of 6 possibly 7, so that would account for some of the moving parts that are setting up instead of giving us revelation or answers just yet.
And holy explosive ending. So much happened, some of which left my mouth dropped to the floor and other that made me want to cheer because of the character growth and how they started to stand up for themselves, or begin to see the light about certain events and their responsibilities. I will be continuing this series and can't wait to read more. Hopefully with a bit more recap next time, lol.
Bottom Line
: A bit harder in beginning to get into, but fell for Celeana plus other characters again.
My question to you, my lovely readers:
Could you put loyalties to your own people against those you grow to love?