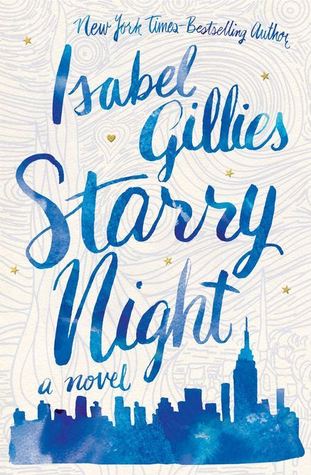 Starry Night by Isabel Gillies
Sometimes one night can change everything. On this particular night, Wren and her three best friends are attending a black-tie party at the Metropolitan Museum of Art to celebrate the opening of a major exhibit curated by her father. An enormous wind blasts through the city, making everyone feel that something unexpected and perhaps wonderful will happen. And for Wren, that something wonderful is Nolan. With his root-beer-brown Michelangelo eyes, Nolan changes the way Wren's heart beats. In Isabel Gillies's Starry Night, suddenly everything is different. Nothing makes sense except for this boy. What happens to your life when everything changes, even your heart? How much do you give up? How much do you keep?
Publishes in US: September 2nd 2014 by Farrar, Straus and Giroux (BYR) Macmillan
Genre: Ya contemp
Source: MacMillan via Netgalley
Series? No
Buy it:
Amazon
Barnes & Noble
IndieBound
Book Depository
Author stalk away: ~
site
~
twitter
I wrote a post about
negative reviews
, and how I don't review if I don't finish, and a very wise blogger pointed out that knowing what a blogger doesn't like can be valuable to publishers and authors too. I think that it also helps my readers build trust that I am not just slapping good ratings on everything I read. I have a knack for picking what I will lack based on synopsis and reviews, but that even fails. Then another blogger mentioned she did a did not finish post and I thought it was a great idea. So, here we go:
I couldn't connect with Wren because she had a younger voice, and the jumping about in time from current to so many different places. I felt lost and I don't think I met Nolan quick enough. The theme of friendship could have been very well, but I felt a bit like they were an accessory. And if I wouldn't have know from the synopsis that Charlie wasn't the object of the romance I would have been even more disappointed because he is mentioned so many times in the beginning.
That isn't to say that the writing is poor or the characters are poorly constructed, it's personal on my end.
Positive reviews:
Lamont from Goodreads
<