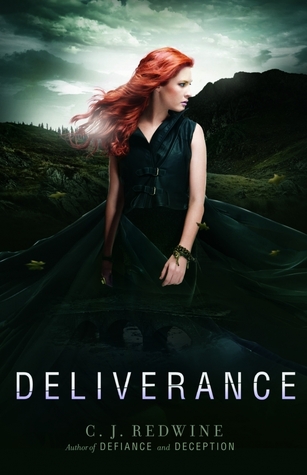 Deliverance (Courier's Daughter #3) by C.J. Redwine
Everything hangs in the balance, and nothing is certain: Rachel has been kidnapped by enemy forces and is being taken to Rowansmark while Logan, imprisoned and awaiting trial, is unable to leave Lankenshire. Separated from each other and their Baalboden comrades, each must find a way to achieve what they desperately want: to rid their world once and for all of the Commander and the tech that controls the deadly Cursed One.
Fighting through her pain and embracing the warrior she's become, Rachel will do whatever it takes to escape her enemies' clutches and join Logan in his fight. But when she learns a secret that changes everything, she realizes that escaping Ian and his tracker friends is no longer an option if she wants to save the people she loves. Instead, she'll have to destroy Rowansmark from the inside out—if she can survive the journey through the Wasteland.
Logan needs allies if he wants to thwart Rowansmark's power grab and rescue Rachel. But securing allies will mean betraying his beliefs and enlisting the help of the man he hates more than anyone: Commander Jason Chase. Driven by his fierce love for Rachel and his determination to make their world safe, Logan may be just the weapon the city-states need to defeat the Cursed One.
But as Rowansmark bears down and uneasy alliances are tested, will Rachel and Logan's love for each other be enough to surmount the unbelievable odds against them?
Publishes in US:
August 26th 2014 by Balzer + Bray
Genre: YA fantasy
Source: Balzer + Bray aka Harper teen via Edelweiss
Series?
Defiance #3
aka Courier's Daughter
my review of #1
Defiance by C.J. Redwine
my review of #2
Deception by C.J. Redwine
Buy it:
Indie Bound
|
Books a Million
|
Barnes & Noble
|
Amazon
Author stalk away: ~
site
Facebook
Pinterest
Tumblr
Twitter
I wanted to read Deliverance because I have loved not only the beautiful covers but the story and world inside the book. The first and second books were fast paced and great reads for me and I def wanted to read the conclusion to this enjoyed series.
I will admit that I didn't get into it right away because I didn't remember the details of what had happened in the first two books and my reviews didn't help much. I could recall Logan and Rachel as well as Willow, but the rest were a bit fuzzy. I really need a site that will tell me what happened in the first books of series since it is so long in between and maybe the beginning wouldn't have been so slow for me. I skimmed a bit especially with Logan's part because even though I know that I liked the romance with him and Rachel, I didn't remember his characteristics and he was under a lot of pressure and I think that those below him asking every two seconds if he has a plan got on my nerves a bit.
Once it got to the Rachel story line, I got a little more into it, but I didn't remember the details about the trackers and what her deal was with her captors besides of course, that she was kidnapped. It is so hard when the kidnapped scenario happens in books though, because I am all about some steam and chemistry and of course you don't get as much of that when separated. But you do get a different kind of character development and I know that its a key element to so many stories.
It was full of some really hard scenes, on the side of gory but so heartbreaking. Some of the characters are hard to like, but I appreciate how this one really looks at motivations and how similar pasts can be but just a few different choices along the way can shape future decisions and actions. On top of that the theme of forgiveness that Rachel learned while being captive and how important it can be even the simplest kindess can mean to someone else.
The story tied up the plots and gave me satisfaction with reading, although I think that I would have liked it even more if there were more recap in the beginning, because there is no way that I had time to reread no matter how much I enjoy the series or books before it. Feeling lost and forgetting a bunch of the side characters as well as referenced past events that are seriously impacting the characters choices made me continue to be a bit lost and knowing that I was missing out on development and even more resolution than if I read back to back, had better memory retention, better recap, or a chance to reread.
Bottom Line
: Enjoyable, but forgot a lot and was a bit lost. Still loved Rachel and Logan and appreciated their ending.
My question to you, my lovely readers:
How do you feel when going into conclusion books of series?