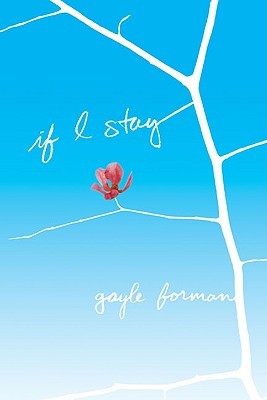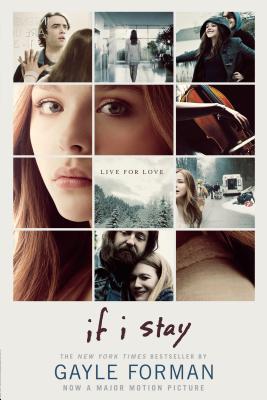 Wanted to add the movie tie-in edition not only because that is what I read, but it is powerful summary of the book/movie in my opinion.
If I Stay Gayle Forman
Just listen, Adam says with a voice that sounds like shrapnel.
I open my eyes wide now.
I sit up as much as I can.
And I listen.
Stay, he says.
Choices. seventeen-year-old Mia is faced with some tough ones: Stay true to her first love—music—even if it means losing her boyfriend and leaving her family and friends behind?
Then one February morning Mia goes for a drive with her family, and in an instant, everything changes. Suddenly, all the choices are gone, except one. And it's the only one that matters.
If I Stay is a heartachingly beautiful book about the power of love, the true meaning of family, and the choices we all make.
Publishes in US:
April 2nd 2009 by Dutton Juvenile
Genre: YA contemp
Source: bought
Series?
If I Stay #1
Buy it:
Amazon
Barnes & Noble
IndieBound
Book Depository
Author stalk away: ~
site
~
twitter
~
facebook
~
blog
Okay, so short and sweet, but not quite tweet. I read this book before I started blogging, so no review is already on my blog. This is a re-read but I think that I feel a lot of the same things. Yes, a few things may be colored because this is a re-read after I watched the movie.
Which, yes, I enjoyed the movie. I think that the casting was dead on, and I was emotional for the whole thing. I couldn't remember what detail the end of the book went into that the movie didn't but that is the one thing my mom complained about going into the movie without reading the book.
I loved the realistic nature of the relationship between Adam and Mia. They are both so in love with music and I think that the draw of seeing someone else your age just get it is believable and made me totally immerse into their relationship. Music, and the importance on their life wasn't watered down for them, the book explored so many issues that would have been sources of possible problems for teenagers in love. The fact that she wants to get into Julliard and Adam and his band are on the brink of something huge.
The emotions of Mia, having to make a choice, to stay without her mom, dad and brother, who were such a close family. They did life together, they were open and honest with each other. But most of all, they loved each other hard, no matter their differences. I don't know what I would have chosen in her place, and it was all powerful and beautifully written.
Bottom Line
: Emotional and powerful story about a girl with an impossible choice.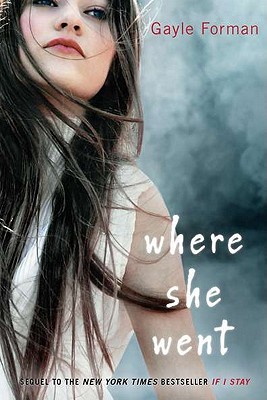 Where She Went by Gayle Foreman
It's been three years since Mia walked out of Adam's life.
And three years he's spent wondering why.
When their paths cross again in New York City, Adam and Mia are brought back together for one life-changing night.
Adam finally has the opportunity to ask Mia the questions that have been haunting him. But will a few hours in this magical city be enough to lay their past to rest, for good - or can you really have a second chance at first love?
Publishes in US:
April 5th 2011 by Dutton Juvenile
Source: bought
Buy it:
Amazon
Barnes & Noble
IndieBound
Book Depository
I don't know how I have gone this far and still not read the follow up. I think that I was afraid of it being from Adam's point of view because then I wasn't so used to the dual narrative and getting into the heads of our guy protagonist. But I have grown to love so much the second chance stories of love, especially first love.
I wasn't easy to be in his head because he was pretty messed up and that was apparent from the beginning. Stardom hasn't been as easy on him and he'd hoped. He is anxious and feels awkward and has an issue getting through one day much less facing down a 67 day tour.
It's obvious that this is a few years after the first book, but I just don't know what sort of decisions led him where he was and what became of Mia. The story is told like If I Stay, partly in the present and then flashbacks. It is interesting to get Adam's perspective for what drew him to Mia, what he thought about her more reserved nature. It was also heartbreaking to see him so messed up and wanting resolution to her disappearance without a word.
The night that they spent together reveals so much and it made my heart lighter and also hurt at different times in their talking. Its hard to see how both of them are dealing with the loss of her parents and Teddy as well as their relationship. It is neat to see them on their own paths, following dreams and love of music. How the experience changes them both and little by little showing them what's important and worth fighting for.
There was a good bit in this one that I didn't think that I was going to get the ending that I wanted, but I think that the weighted conversations needed to be had and the pink elephant talked about. The tension was so well written but also painful and heavy. I knew the ending I wanted for them I just didn't know how I wanted for it to come about, but I think that this way resolved it in ways that the simpler path would have left too many avenues unexplored and issues swept under the rug.
I enjoyed this and can't wait to see if they make this one into a sequel movie, I will surely read it because I loved Adam's character and how Mia grew and changed.
Bottom Line
: Raw, emotional, but conclusion I can be happy with even if a bit different than I imagined.
My question to you, my lovely readers:
Could you stay alive without your whole immediately family or do you think you'd join them?