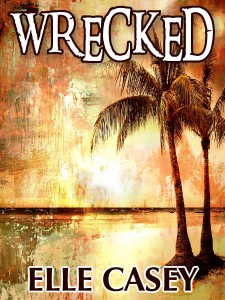 Wrecked by Elle Casey
An ill-fated Caribbean cruise and four teenagers: a nerd, a jock, a mouse, and a bitchy beauty queen…an island, a treehouse, some nefarious interlopers…life and death…fear and loathing…love and laughter.
Follow Jonathan, Kevin, Candi and Sarah as they find their typical high school lives and their worlds totally WRECKED.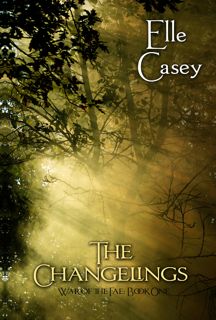 Jayne Sparks, a potty-mouthed, rebellious seventeen-year-old and her best friend, shy and bookish Tony Green, have a pretty typical high school existence, until several seemingly unrelated incidents converge, causing a cascade of events that change their lives forever. Jayne and Tony, together with a group of runaway teens, are hijacked and sent into a forest, where nothing and no one are as they seem. Who will emerge triumphant? And what will they be when they do?
Giveaway: ebooks of Wrecked and Changelings open internationally
a Rafflecopter giveaway
--

The Twitter version: tell us about your book in 140 characters or less.
4 shipwrecked teens, an island, a treehouse, some pirates. Follow Jon, Kevin, Candi and Sarah as they find their lives totally WRECKED.


--How did you get the idea for the story? Probably from books I read as a kid like The Swiss Family Robinson, Robinson Crusoe, Treasure Island. I was always fascinated with what would happen if I were washed up on a deserted island and how I might survive.
--Which character would you most/least like to have dinner with? Most - Candi. Some might say Sarah, because she's so bold and out there. But I think Candi is very intuitive and observant, so I'd like to have dinner with her to talk about her opinion on things. Least – Frank, the father of Kevin and Sarah. He's just a real jerk. Ha, ha.

--What are some of your favorite books? Do you still have much time to read? I don't have as much time to read as I'd like, but I'm a fan of Fantasy so I've read the Harry Potter series, Twilight, Mercy Thompson. I've recently started Samantha Young's Lunarmorte series. I've also read some Nicolas Sparks, Stieg Larsson, and Jodi Picoult lately, but I prefer fantasy.
--Do you have any other works in progress? Any teasers or release dates? Yes! I am working on a 4-book series called War of the Fae. Book 1-The Changelings is finished and in last editing right now. Book 2-Call to Arms is 25% done. Book 1 will be published for the Kindle and Nook by February 11th and Book 2 by March 11th. I hope to roll out books 3 and 4 before the end of the summer. It's a YA Fantasy series, and I'm super excited about it. I've had a lot of great feedback so far.

--If a fairy godmother told you your life could be like a favorite book for 24 hours, which book would you pick and why? That's a tough one! I think I'd pick one of the Mercy Thompson books because the main character is a shape shifter, she's independent, and she kicks ass. :)

--Do you need anything to write (music, coffee, etc)? Are there any songs on your playlist- songs that inspired you or that were playing while you wrote? When I write I get my best work done for first drafts with white noise playing, believe it or not. It blocks out all the external distractors. I put my headphones on and go to a website that will play white noise constantly. But when I go through on a second draft and flesh things out and get into the details, I listed to music. I have a playlist on my website for my newest series War of the Fae. It includes several artists like Breaking Benjamin, Muse, Evanescence, Mindy Gledhill, Cocorosie, Biffy Clyro, and others. I drink tea when I write, mostly vanilla tea, with lots of sugar.

--If you could have any superpower what would you choose? Another tough question ... I would like to be able to sense people's intentions, whether they are good or bad.

--Besides writing, what do you like to do in your free time? Read of course! I also like to hang out with my kids, taking walks and going on road trips, stuff like that.

--Is there anything else you want to add or say to your readers? Just that I'm super grateful for my readers and look forward to writing more and providing more entertainment for them. Without my readers I wouldn't be a writer, and I love being a writer! Please visit me at my site.
Lightning round: this or that?
Vanilla or chocolate? Vanilla if it's plain, chocolate if it has peanuts on it
Salty or sweet? Sweet (but both together, that's the best!)
Beach or mountains? Mountains
Phone call or email? Email
Early bird or night owl? Night owl
Messy or neat? Neat (I'm messy but I wish I were neat)
Ninjas or pirates? Ninjas

Pin It