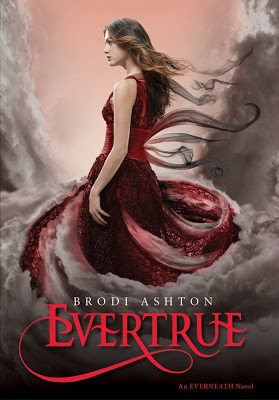 Evertrue (Everneath #3) by Brodi Ashton
Now that Nikki has rescued Jack, all she wants is to be with him and graduate high school. But Cole tricked Nikki into feeding off him, and she's begun the process of turning into an Everliving herself... which means she must feed on a Forfeit soon — or die.
Terrified for her survival, Nikki and Jack begin a desperate attempt to reverse the process using any means possible. Even Cole, who they expected to fight them at every turn, has become an unlikely ally — but how long can it last? Nikki needs to feed on Cole to survive, Cole needs Nikki to gain the throne in the Everneath, Jack needs Nikki because she is everything to him — and together, they must travel back to the Underworld to undo Nikki's fate and make her mortal once more. But Cole isn't the only one with plans for Nikki: the Queen has not forgotten Nikki's treachery, and she wants her destroyed for good. Will Nikki be forced to spend eternity in the Underworld, or does she have what it takes to bring down the Everneath once and for all?
In this stunning conclusion to the Everneath trilogy, Brodi Ashton evokes the resiliency of the human spirit and the indomitable power of true love.
Publishes in US:
January 21st 2014 by Balzer + Bray
Genre: YA paranormal
Source: library
Series?
Everneath #3
My reviews:
1-
2-
Buy it:
Amazon
IndieBound
Book Depository
Author stalk away:
~
site
~
twitter
I wanted to read Evertrue because I enjoyed the first two, and I want to see more of the story between Jack and Nikki, if Cole is really as bad as he seemed from last book, if everlivings will continue to exist when Nikki is done with it all, and get answers and closure for this series.
It started out fast paced and right where Everbound left off, and we get to see the romance, tenderness and concern for each other in the relationship with Nikki and Jack. And while I am not sure how parents in real life would handle teens who disappear and then reappear after months and days away, I think that it was handled pretty well. I think that they would try to instill their values and let them know how much they care for their kids, but that they wouldn't push them too far because they don't want to lose Jack and Nikki again. Hence Jack spending his nights with Nikki without much consequence.
The beginning didn't look too hot for ol' Cole either. Some of his actions I just wonder how he could have real feelings for Nikki or how could he do some of the things and say some of them and then stick around to watch Nikki's pain and struggle. When his amnesia kicked in, it was interesting how much things changed, but I think that we ended up getting a more clear and less jaded version of the man he used to be with out all the backstabbing and manipulation that he probably completely justified.
The ending suited the series, and I am pleased and satisfied. This has been a great series, and I have always been cheering for Nikki and Jack, so the ones who weren't then they are probably not feeling the same things.
Bottom Line
: Satisfying conclusion.
My question to you, my lovely readers:
Could you step up to rule an immortal community if you'd die quickly as a human?