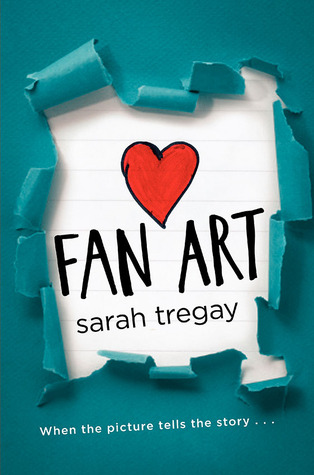 Fan Art by Sarah Tregay
When the picture tells the story…
Senior year is almost over, and Jamie Peterson has a big problem. Not college—that's all set. Not prom—he'll find a date somehow. No, it's the worst problem of all: he's fallen for his best friend.
As much as Jamie tries to keep it under wraps, everyone seems to know where his affections lie, and the giggling girls in art class are determined to help Jamie get together with Mason. But Jamie isn't sure if that's what he wants—because as much as Jamie would like to come clean to Mason, what if the truth ruins everything? What if there are no more road trips, taco dinners, or movie nights? Does he dare risk a childhood friendship for romance?
This book is about what happens when a picture reveals what we can't say, when art is truer than life, and how falling in love is easy, except when it's not. Fan Art explores the joys and pains of friendship, of pressing boundaries, and how facing our worst fears can sometimes lead us to what we want most.
Publishes in US:
June 17th 2014 by Katherine Tegen Books
Genre: Contemp
Source: Harper Teen via Edelweiss
Series? no
Buy it:
Author stalk away: ~
site
I wanted to read this one because it sounded like a perfect discovering yourself story. The idea of having a crush on your best friend is such a universal concept, and I have read about it and enjoyed it but never with a gay guy crushing on seemingly straight best friend. I have read it both ways, where it turns into a romance or where another love interest was introduced and I was wondering where this story would take it.
Jaime and Mason as best friends worked so well. They are comfortable with each other, go to school together, and have been friends and part of each other's lives for quite some time.
Another aspect that I enjoyed was the family togetherness from Jaime. He is so sweet and patient with his younger twin sisters, and is thoughtful of his mom. He helps with the girls, and he also has an open and honest relationship with her. He came out to her and she luckily was very accepting and she gets to the point of bordering on annoying how in tune she wants to be about Jaime's love life.
The art class, where his friends there are fun to read about. The girls seem to know about his preference and try to help him out and set him up. He ends up asking one to the prom and they have an interesting time because she is a lesbian but her parents aren't supportive so they put on quite the show.
The magazine, his friendship and cover up with Eden, the prom and senior pranks all make this story even more real and full. It has characters who are openly gay, supportive and then the complete opposite and against homosexuals. But it is more open than my high school was, but that was also years ago that I was in school.
I kept going back and forth if Mason knew anything about how Jamie felt or if he was completely oblivious and I think that totally added to the suspense and build up of the story. The ending worked wonderfully because of this as well. It was hard to read at times, but so glad that I got to see Jamie begin to accept himself and trying to be okay regardless of what Mason's orientation was. I could understand why he was so afraid to tell him, and I can't imagine what pressure was on his shoulders.
While it had a great message, in some ways to me it was a feel good read. It was quick, I liked the growth in Jamie and the build up, friendships and family relations both positive and negative all drove this character driven story. The pacing was great and it felt like I flew through it.
Bottom Line
: Fast read that made me feel good.
My question to you, my lovely readers:
Did you go to the prom?