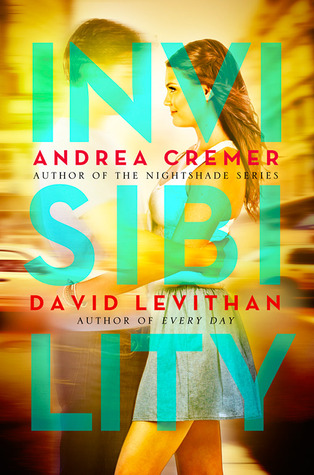 Invisibility by Andrea Cremer and David Levithan
Stephen has been invisible for practically his whole life — because of a curse his grandfather, a powerful cursecaster, bestowed on Stephen's mother before Stephen was born. So when Elizabeth moves to Stephen's NYC apartment building from Minnesota, no one is more surprised than he is that she can see him. A budding romance ensues, and when Stephen confides in Elizabeth about his predicament, the two of them decide to dive headfirst into the secret world of cursecasters and spellseekers to figure out a way to break the curse. But things don't go as planned, especially when Stephen's grandfather arrives in town, taking his anger out on everyone he sees. In the end, Elizabeth and Stephen must decide how big of a sacrifice they're willing to make for Stephen to become visible — because the answer could mean the difference between life and death. At least for Elizabeth.
Publishes in US:
May 7th 2013 by Philomel
Genre: YA Paranormal
Source: library
Series? No, standalone.
Buy it:
Amazon
Barnes & Noble
IndieBound
Books-A-Million
Kindle
Nook
Author stalk away: (Andrea) ~
site
~
blog
David:
site
twitter facebook
I wanted to read this one because the idea of invisibility appeals tho me. Then s added in the fact that the only person that can see him is the girl that he is attracted to.
The beginning was a little slow for me but once the dual narrative and Elizabeth entered the story it picked up. It wasn't necessarily that I didn't connect to him but I just liked her more. Elizabeth knew that something was off and a little weird from their first stroll through the park, butt there was a spark between them and she didn't think it was something bad, just different. He was hiding the fact that no one else could see him. I don't think that it was necessarily that he was being deceptive but it would be really hard tho believe and he also didn't want to lose the only person that could see him since not even his parents could see him and it would be very lonely.
One thing that bothered me was that in my kindle library copy there wasn't any indication besides chapter breaks as to who is talking. While after a few words or sentences it was easy enough to figure out it was jarring to me.
Both characters had their own voice and personalities and I liked tuff at whole romance was a big focus, out wasn't the only plot line. Elizabeth and her brother were close and I always enjoy a good family dynamic. Laurie, the brother had a lot of baggage but it was nice to see him flourishing in New York.
When Elizabeth first find out about the invisibility, or was so proud of her reaction. She was outraged and disbelieving, questioning herself and sanity like a normal person would. But what got to her the most was the lies he told, not only to cover up invisibility, but other things such as school and stuff about his parents.
I felt like I still wanted to know what happened after about 65% but I was also skimming a lot too. I am not sure if it was my mood, or if the plot just started to slow down and meander a bit.
I didn't get the ending that I sincerely hoped for, but I think that it wrapped up in a realistic (for paranormal anyways) and okay manner. That they had hope for certain things to change, but they are stronger than they were before they met each other.
Bottom Line
: Good book about a concept I liked.
My question to you, my lovely readers:
What would you do with power of invisibility for a day?