I wrote a post about
negative reviews
, and how I don't review if I don't finish, and a very wise blogger pointed out that knowing what a blogger doesn't like can be valuable to publishers and authors too. I think that it also helps my readers build trust that I am not just slapping good ratings on everything I read. I have a knack for picking what I will lack based on synopsis and reviews, but that even fails. Then another blogger mentioned she did a did not finish post and I thought it was a great idea. So, here we go:
Searching for Sky by Jillian Cantor
Sky and River have always lived on Island, the only world they've ever known. Until the day River spots a boat. Across Ocean, in a place called California, Sky is separated from River and forced to live with a grandmother she's just met. Here the rules for survival are different. People rely on strange things like cars and cell phones. They keep secrets from one another. And without River, nothing makes sense. Sky yearns for her old life where she was strong and capable, not lost and confused. She must find River so they can return to Island, but the truth behind how they ended up there in the first place will come as the biggest shock of all.
GR
Publishes in US:
May 13th 2014 by Bloomsbury USA Childrens
Source: Netgalley
Series? No
Buy it:
Author stalk away: ~
site
Did Not Finish
skimmed to 8%
I just didn't connect with Sky. Her narrative voice didn't click with me, and I didn't relate with what she was talking about and there wasn't much common ground for us so I would be invested in what she was going through.
The reverse dystopia is what made this pop for me but I feel like I may have gotten into it more if it was told in alternating times or maybe perspectives.
Great idea and plot, and the world building was great too, but I just couldn't read Sky.
That isn't to say that the writing is poor or the characters are poorly constructed, it's personal on my end.
Positive Reviews: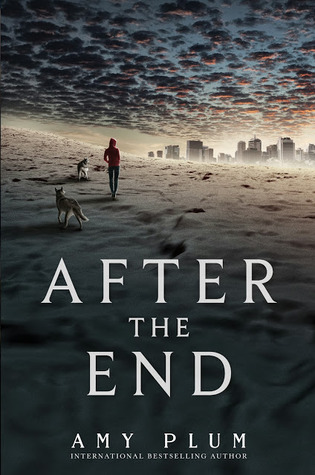 After The End by Amy Plum
Source: Harper Teen
Stopped at page 35
I went into this one and just expected something... different. I guess more dystopia instead of the magic blend with the seeming post-apocalyptic feel for the beginning. I didn't really understand Juneau's magic and I don't think I was submersed in her world long enough to understand why they live this way and how they could have been so deceived.
I didn't connect with Miles, he didn't show me his heart, anything to make me relate to him except the story clues that his dad and their company wanted Juneau for her magic and were trying to capture her before others.
The pacing was a little too slow for me and unfortunately did not grab my attention to make me push through, add in my confusion and I decided to stop.
That isn't to say that the writing is poor or the characters are poorly constructed, it's personal on my end.
I'd love to see if you have a great review of any of this books and what you loved about it.
Positive Reviews:
Maja (The Nocturnal Library)
Once Upon a Twilight
Guy in Real Life by Steve Brezenoff
From the acclaimed author of Brooklyn, Burning comes Guy in Real Life, an achingly real and profoundly moving love story in the vein of Rainbow Rowell and John Green, about two Minnesota teens whose lives become intertwined through school, role-playing games, and a chance two-a.m. bike accident.
It is Labor Day weekend in Saint Paul, Minnesota, and boy and girl collide on a dark street at two thirty in the morning: Lesh, who wears black, listens to metal, and plays MMOs; Svetlana, who embroiders her skirts, listens to Björk and Berlioz, and dungeon masters her own RPG. They should pick themselves up, continue on their way, and never talk to each other again.
But they don't.
This is a story of two people who do not belong in each other's lives, who find each other at a time when they desperately need someone who doesn't belong in their lives. A story of those moments when we act like people we aren't in order to figure out who we are. A story of the roles we all play-at school, at home, with our friends, and without our friends-and the one person who might show us what lies underneath it all.
Source: Netgalley/ balzer + bray harper teen
Stopped at 20%
I wanted to read this one because I myself likes RPGs and consider myself nerdy and kinda outcasty and was really hoping to relate to these characters.
I know that the contrast was supposed to be set up right from the start with lesh and Svetlana so we see some of the roughest parts of Lesh, but I wasn't at all relating to Lesh's over drinking and vomiting and talk about grungy cities. I wanted to have a better connection with him and see myself falling for him no matter how different.
Also, I am a gamer, not MMO but co-op and on console, but still, the game description really didn't do it for me, and I just wanted something to happen. I am normally a fan of character and romance driven stories, but maybe I just wasn't in the right mood.
That isn't to say that the writing is poor or the characters are poorly constructed, it's personal on my end.
I'd love to see if you have a great review of any of this books and what you loved about it.
Positive Reviews:
Leisure Reads
Cherry Blossoms & Maple Syrup
Take Back the Skies (Take Back the Skies #1) by Lucy Saxon
Catherine Hunter is the daughter of a senior government official on the island of Anglya. She's one of the privileged – she has luxurious clothes, plenty to eat, and is protected from the Collections which have ravaged families throughout the land. But Catherine longs to escape the confines of her life, before her dad can marry her off to a government brat and trap her forever.
So Catherine becomes Cat, pretends to be a kid escaping the Collections, and stows away on the skyship Stormdancer. As they leave Anglya behind and brave the storms that fill the skies around the islands of Tellus, Cat's world becomes more turbulent than she could ever have imagined, and dangerous secrets unravel her old life once and for all . . .




Source: Bloomsbury via Netgalley
Skimmed to 9%
The world building wasn't for me. I wasn't sure how scifi it really was and if the wars were between planets or what. I wish that I would have connected more with her because a girl on the run because she is standing up for herself really appeals to me. Also, Cat was so back and forth on maturity levels it was hard to get a grasp on her.
That isn't to say that the writing is poor or the characters are poorly constructed, it's personal on my end.
I'd love to see if you thought about it as well.
Positive Reviews:
Uncorked Thoughts
Otherworldly tales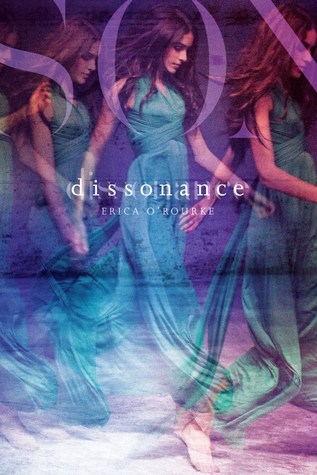 Dissonance (Dissonance #1) by Erica O'Rourke
Delancy Sullivan has always known there's more to reality than what people see. Every time someone makes a choice, a new, parallel world branches off from the existing one. Eating breakfast or skipping it, turning left instead of right, sneaking out instead of staying in bed ~ all of these choices create an alternate universe in which an echo self takes the road not travelled and makes the opposite decision. As a Walker, someone who can navigate between these worlds, Del's job is to keep all of the dimensions in harmony.
Normally, Del can hear the dissonant frequency that each world emits as clear as a bell. But when a training session in an off-key world goes horribly wrong, she is forbidden from Walking by the Council. But Del's not big on following the rules and she secretly starts to investigate these other worlds. Something strange is connecting them and it's not just her random encounters with echo versions of the guy she likes, Simon Lane.
But Del's decisions have unimaginable consequences and, as she begins to fall for the Echo Simons in each world, she draws closer to a truth that the Council of Walkers is trying to hide ~ a secret that threatens the fate of the entire multiverse.
source:
July 22nd 2014 by Simon & Schuster Books for Young Readers
stopped at: page 30
I wanted to read this one because I am normally a fan of the parallel universe plots, so when I was sent this one, I was happy.
But when I started all of the terminology just threw me off. I couldn't get into the world because Delancy went straight into another world and throwing around terms and rules and such. So, I felt lost from the start and couldn't connect with Delancy and then felt like other characters were thrown at me before I could get a grip on any of them.
This may be from me being on a contemporary book high having just finished a five star contemp (I don't give those babies out much anymore)
That isn't to say that the writing is poor or the characters are poorly constructed, it's personal on my end.
I'd love to see if you thought about it as well.
Positive Reviews:
A Thousand Lives Lived
YA Bookers