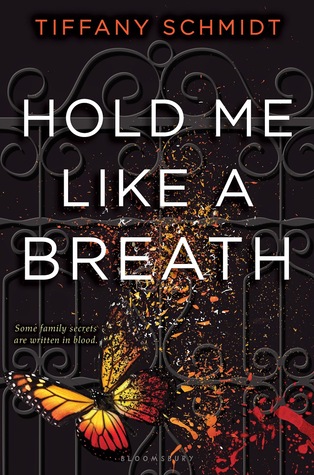 Hold Me Like a Breath by Tiffany Schmidt
Penelope Landlow has grown up with the knowledge that almost anything can be bought or sold—including body parts. She's the daughter of one of the three crime families that control the black market for organ transplants.
Penelope's surrounded by all the suffocating privilege and protection her family can provide, but they can't protect her from the autoimmune disorder that causes her to bruise so easily.
And in her family's line of work no one can be safe forever.
All Penelope has ever wanted is freedom and independence. But when she's caught in the crossfire as rival families scramble for prominence, she learns that her wishes come with casualties, that betrayal hurts worse than bruises, that love is a risk worth taking . . . and maybe she's not as fragile as everyone thinks.
Publishes in US: May 19th 2015 by Bloomsbury
Genre: ya retelling (Princess and the Pea)
Source: Bloomsbury via Netgalley
Series?
Once Upon a Crime Family #1
Buy it:
Bloomsbury
*
Amazon
*
IndieBound
*
Barnes and Noble
Books-a-Million
*
Book Depository
*
Powell's
Author stalk away: ~
site
~
twitter
I wanted to read Hold Me Like a Breath before I realized it was a retelling. I was drawn to the autoimmune disorder as well as the black market organ market.
I related with Penelope. She is a strong girl with a weak body. Or so everyone around her keeps pounding into her head. She is protected and viewed as fragile and frail. She had such a spark and she wanted to explore and push her boundaries.
She and Garrett had a spark, but she realizes more about her family business and how much he is involved. She has always known something illegal was going on, but she gets the sense that her brother Carter and Garrett are into even more, things dangerous and a secret from their detail oriented dad.
Quickly though, Penny is pushed to her emotional and physical limits. Tragedy hits her family and she is own her own for a bit. Running and paranoid that someone may be after her, she longs for Garrett, Carter, and her parents, but she is utterly alone and heartbroken. She waits for days for someone to come to her, but then she gets tired of the same walls, and begins to venture out. She tries to be unpredictable but she can't help but form some routines and see familiar faces.
When she is literally ran into by a stranger, things get even more dicey. Since her autoimmune disorder makes her bleed easily and not stop and she bruises badly even worse. She is left dazed, bruised and bleeding. But the stranger helps her back to the apartment, and then shows up the next day. She finds herself feeling so safe with him, comfortable, like he can see past the lies she's forced to tell, and see the strength that everyone in her life didn't because they saw her as breakable, and fragile, in the dark. They spend their days together telling half truths, but they form a real and deep connection.
Her past doesn't stay there forever and she discovers shocking things about both boys she's come to care for. She is left reeling again and not knowing who to trust even more so than before.
These last plot twists leads to even more reveals and a whirlwind of Penn trying to figure out who is the most truthful, who needs to be protected, whose feelings are real, and what is next for her in her life turned upside down. I enjoyed Penelope's growth in this one, discovering her true limits physically because of illness and the depths of strength emotionally that she never fully realized when so protected.
I will def be continuing this series!
Bottom Line
: Good character development in a main character whose life is turned upside down all the while facing serious physical limitations from a blood disorder.
My question to you, my lovely readers:
Do you think it should be legal to sell your organs (kidney, liver, or ones from live donors)?