She Speaks to Angels
(The AngelFire Chronicles #1)
by
Ami Blackwelder
"I tried not to sound hysterical, but it's not every day you find out the paranormal is hunting you."
What if everything you believed was a lie?
A Suicide
Seventeen year old Allison Maney attends Millennium High School in Manhattan. Nothing out of the ordinary, unless you consider the occasional suicides at the school. At least that is what everyone is told, what everyone believes. But Tommy Bachelor was a popular football player; why would he jump off the roof of the school?
Dangerous Liaisons
When Dameon pays attention to Ali, she couldn't be more excited, because for the past three months he was all she could think about. But now that Dameon is finally pining for her affections, she is becoming more and more wrapped up in a clique of three who, as new transfers to the school, are proving to be trouble. But at least Dameon loves her, doesn't he?
A Soul Purpose
The underworld of angels and demons have one thing on their mind: Earth. Demons want to do what they want. Angels want to protect humans from these rogue angels, AKA: Demons
A Suspenseful Romance
Caught between Dameon and Kian, the suicide and the clique of three, Ali won't know who to trust…or who to love, because for Allison Maney, everything i not exactly what it seems.
Purchase She Speaks to Angels
PRINT
Smashwords
Kobo
Nook
Kindle
Dumah's Demons (The AngelFire Chronicles #1.5) by
Ami Blackwelder
*This novella works as a stand alone but you may want to read, 'She Speaks to Angels' first, this novella second, and, 'Falling Angles' third, followed by the last book in the series, 'Angel Codes'.*
Summary: The story of Dumah, Kian's sister and how she becomes a Dark Angel. The reader will better understand Dameon and Kian through this story, which is told through the eyes of Dumah.
Follow her story as she and Kian fight to survive on the streets of Manhattan. See how one event changes both of their lives forever, driving her toward the darkness of the Dark Angels and Kian toward the AngelFire protectors.
If you've read, 'She Speaks to Angels', this is a great way to understand the motives of Dameon, Kian and Dumah. Dumah is found in 'Falling Angels', Book 2.
Falling Angels
(The AngelFire Chronicles #2)
by
Ami Blackwelder
After Ali Maney becomes Angelfire the stakes are raised and Dameon would like nothing more than her death. While Ali grows closer to Kian, they also find many differences that cause friction between them and after her best friends and brother are drawn into the angel wars, Ali will never look back until the war is over.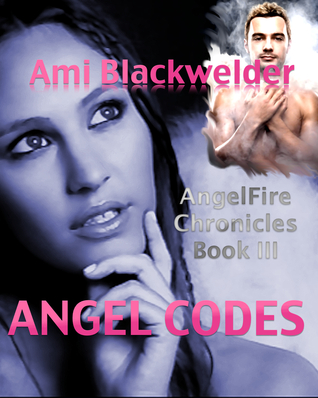 Angel Codes
(The AngelFire Chronicles #3)
by
Ami Blackwelder
After Kian is taken by his sister to serve in the otherworld of demons, Ali is left on her own with the Angelfire to figure out how to get him back. The fourth book, third novel, in the AngelFire Chronicles will keep you engaged till the end. Be sure to read Dumah's Demons before continuing the series.
What inspired you to become an author? I've always written, first in my head and then when I learned to write I would write all kinds of stories in Elementary school that my teachers would read aloud. It is just something I love to do. I love to build worlds and characters and to see where the stories take the stories as well as the readers.
Do you have a specific writing style? I love to write a mix of simplicity with poetry. My style has been said to be realistic fantasy and thought provoking as well as revolutionary for young adults. I'm not sure which readers would agree with which comments, but my style varies on what kind of story I am telling. Currently however I am moving from my Ami Blackwelder name who writes paranormal and scifi books to my pen name M.Black and Rebecca May. M. Black writes thrillers and dystopia. You can find more info on that pen name here http://MiaBlackThrillers.blogspot.com. For historical and contemporary romance lovers, try http://RebeccaMayRomances.blogspot.com
Do you write in different genres? See above;)
If yes which is your favorite genre to write? I love all the above. There really is no
favorite
, however currently I am loving dystopia with a slice of scifi.
How did you come up with the title for your latest book? Angel Codes was always going to be the last book in the series. I wanted to play
with
the idea of DNA and our junk DNA and with Angel DNA and how they would overlap and how angel
characteristics
might not be as foreign as books usually have them as.
Do you title the book first or wait until after it's complete? Usually I have a title first. Okay, always;)
Is there a message in your novel that you want readers to grasp? In most of my work the message usually harbors around prejudice,
forbidden
passions or love, and how hatred/evil can cause irrevocable damage to people's lives.
Is the book, characters, or any scenes based on a true life experience, someone you know, or events in your own life? No;)
What books/authors have influenced your life? I come from a background with a love of short stories and literature, as
well as
poetry. So, my style of writing has been
influenced
by that and perhaps because of that seems very different from most of what is out there in my genres. I love indie authors as well.
If you had to choose, which writer would you consider a mentor? Steinbeck or Charles
Dickens.
Giveaway is for:
eBook, full series 1-4 AngelFire Chronicles (US only)
She Speaks to Angels, Dumah's Demons, Falling Angels, Angel Codes
If under 18, must have parent's permission.
No Purchase Necessary
Open: 4/2-6/6
The Sponsor: author
Winners will be chosen by giveaway host and notified by email. They will have 48 hours to respond.
Email addresses or physical addresses or any personal information will not be sold
Liability: Brandi Breathes Books is not responsible for lost or stolen packages
Brandi Breathes Books Giveaways are hosted in Holly Springs, NC USA
Void where prohibited by law
-If you win a review on your blog and/or amazon is appreciated but not required.
*If, for whatever reason, the Rafflecopter widget does not appear, you can click on the link where it says rafflecopter giveaway and it will show up, sorry for the inconvenience.
a Rafflecopter giveaway