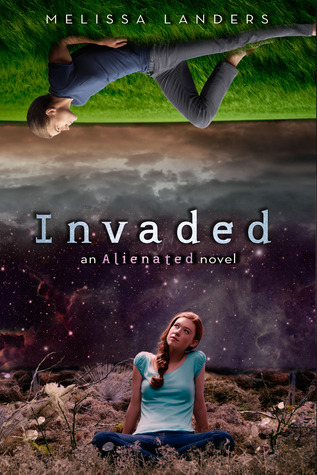 Invaded (Alienated #2) by Melissa Landers
The romantic sequel to Alienated takes long-distance relationships to a new level as Cara and Aelyx long for each other from opposite ends of the universe...until a threat to both their worlds reunites them.
Cara always knew life on planet L'eihr would be an adjustment. With Aelyx, her L'eihr boyfriend, back on Earth, working to mend the broken alliance between their two planets, Cara is left to fend for herself at a new school, surrounded by hostile alien clones. Even the weird dorm pet hates her.
Things look up when Cara is appointed as human representative to a panel preparing for a human colony on L'eihr. A society melding their two cultures is a place where Cara and Aelyx could one day make a life together. But with L'eihr leaders balking at granting even the most basic freedoms, Cara begins to wonder if she could ever be happy on this planet, even with Aelyx by her side.
Meanwhile, on Earth, Aelyx, finds himself thrown into a full-scale PR campaign to improve human-L'eihr relations. Humans don't know that their very survival depends on this alliance: only Aelyx's people have the technology to fix the deadly contamination in the global water supply that human governments are hiding. Yet despite their upper hand, the leaders of his world suddenly seem desperate to get humans on their side, and hardly bat an eye at extremists' multiple attempts on Aelyx's life.
The Way clearly needs humans' help . . . but with what? And what will they ask for in return?
Publishes in US:
February 3rd 2015 by Disney-Hyperion
Genre: is sci-fi
Source: disney for review
Series? yes
Alienated #2
Until Midnight (Alienated, #1.5)
my review of 1st Alienated
there had better be a 3rd!
Buy it:
Author stalk away: ~
site
~
twitter
~
facebook
I wanted to read Invaded because I loved Alienated and couldn't wait to find out more about Cara and Aelyx. I remember loving their romance and while I knew it would be hard to see them apart, the plot of trying to save the human race and form colonies of humans on L'heir, the home of Aelyx,
This focuses on the political aspects and the attempts on Aelyx's life and threats from a human extremist group that does not want the alliance between the species. Cara doesn't have the easiest time making friends and fitting in at first. The clones don't accept her as easy as she'd hoped. Though she does have her brother for a while and Aelyx's sister Elle.
The plot started right away with threats to Aelyx, and Cara's difficulties. She feels inferior because they are more physically fit, genetically more evolved, and more brain capacity. But her strong and fiery personality is just what they are looking for. With all of the cloning, they feel less and they are hoping for an alliance to introduce variety in their gene pools.
We did get some of Aelyx's point of view, and my favorite there was his new friend David. They learned a lot from each other, and David is another one who is a good example of what the L'heirs should be looking for in humans for the colony. Also with him, we get to see the depths of his feelings for Cara again, even though they face challenges related to getting used to another planet, society and way of living, as well as something that may be enough to end their relationship. I also learned even more about his character in the way that he treats Syrine, and how their rocky friendship and trying to patch things that have went sideways.
Cara shows her strength in this one as well, she learns more about the society, their advanced physics, and even begins to catch up in the physical department with the help of a PT teacher she dubs Satan. But she is surrounded by challenges as well as secrets. She uncovers a theory that begins to shape itself more and more about the heritage of both planets as well as another challenge that totally took me by surprise. There was plenty going on, but I loved the deepening of the family ties, especially her and Troy, and when they are back on Earth, how they begin to see some of the human frivolities and both question if they really belong in either place, and where they fit with each possible decision.
I loved seeing her work with the babies and toddlers. It started out that she wanted to learn more about the foundations of their society, their cultural norms and beginnings of the math and science that was so different from what she learned. But she is also placed in a situation that showed more of the huge differences between the cultures, what they see as a family unit, how breeding/cloning has changed or differs from the human family unit.
The book ended at a great place. Some very hard things happened as well as life changing decisions made. But I was satisfied and while I would love a 3rd book, I can understand if this is the end. It would be a bit open ended but not bad, just leaving some of their future to my imagination. Although a couple of the characters almost got what was coming to them but not quite and there was another secondary character that had a lot of hurt piled on her.
Bottom Line
: Great second book learning about how both Cara and Aelyx try to fit in and form the planetary alliance.
My question to you, my lovely readers:
Would you accept an invitation to live on a foreign planet?