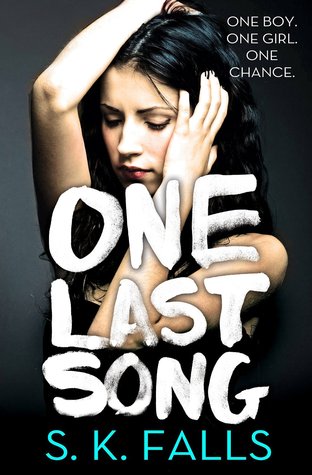 One Last Song by S.K. Falls
I was seven when I swallowed my first needle.
My mom freaked out and rushed me to the emergency room
She stayed by my side all night.
I never wanted it to end.
When you spend your whole life feeling invisible-when your parents care more about deals and deadlines than they do about you-you find ways of making people take notice. Little things at first. Then bigger. It's scary how fast it grows. Then one day something happens that makes you want to stop. To get better. To be better. And for the first time, you understand what it's like to feel whole, happy . . . loved. For the first time, you love someone back.
For me, that someone was Drew.
Buy it:
Amazon
|
B&N
|
Kobo
Find online: ~
site
~
twitter
~f
acebook
Such a unique premise, I have never read a book about Munchhausen's and didn't know much about it, so it was awesome to get into her head and experience a new perspective and learn about a mental illness.
I liked the friends she met from the support group, and even though I knew that things would collapse around her because of her lies and carefully constructed house of cards. I did want more of how she made herself sick and the emotions behind it but it was a good thing to get the emotions from those who are sick not by choice. I think that being around that amount of sickness and impending death really led to her healing more than anything else. It began as jealousy that they were really sick but then it morphed into something else entirely.
I understood little by little why she did what she did, and it was hard relating with that type of personality because I don't have any of that life experience, but I could empathize. Because I know pain, fear of abandonment, wanting to fit in, I just don't process the same way.
There is romance in this one, and it was sweet for the most part. It was just hard because like the friendships above, it is built on lies, and you know it can't end sweetly.
I felt like the ending was rushed a bit, and I wanted there to be a little more something. I liked the overall ending message and the note that it left on of hope and change though.
Bottom Line
: Dark and gritty adventure into the mind of a girl who hurts herself for attention.
My question to you, my lovely readers:
Have you ever wanted to be sick?