I will be participating in the following events:
--
BlogFest is a blog run of sorts. A list of participating blogs will be provided on September 10, each offering a fantastic giveaway for readers to enter. Each blog will link to another, pulling readers through the fantastic party we'll have set up for them!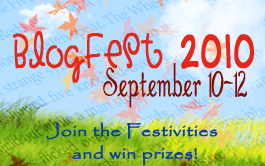 And
Welcoming the Fall Giveaway
This event will take place on Wednesday the 22nd - Wednesday the 29th
One week only


If you would like to participate send us an e-mail GoodChoiceReadin@aol.com for more details!
I am not 100% sure what I will be giving away, but here are some possibilities:
Dead Before Dark by Harris
Let me know what catches your attention!!