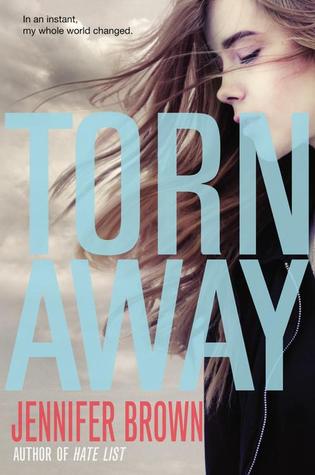 Torn Away by Jennifer Brown
Jersey Cameron has always loved a good storm. Watching the clouds roll in and the wind pick up. Smelling the electricity in the air. Dancing barefoot in the rain. She lives in the Midwest, after all, where the weather is sure to keep you guessing. Jersey knows what to do when the tornado sirens sound. But she never could have prepared for this.
When her town is devastated by a tornado, Jersey loses everything. As she struggles to overcome her grief, she's sent to live with relatives she hardly knows-family who might as well be strangers. In an unfamiliar place, can Jersey discover that even on the darkest of days, there are some things no tornado can destroy?
In this powerful and poignant novel, acclaimed author Jennifer Brown delivers a story of love, loss, hope, and survival
Publishes in US:
May 6th 2014 by Little, Brown Books for Young Readers
Genre: ya contemp
Source: Little Brown via Netgalley
Series? no
Buy it:
Amazon
IndieBound
Book Depository
Author stalk away:~
site
Twitter
blog
I wanted to read Torn Away because the aftermath of a devastating tornado sounds like the perfect storm of emotions, powerful grief and sense of loneliness and desperation. I have also read other books by Jennifer Brown and enjoyed so this would appeal to me for that reason even if the synopsis didn't grab me, which it did.
We get a little snapshot of Jersey's life before the tornado hit, but it was a powerful one. It is a memory of telling her little sister to go away, and those words as well as how often she ignored her requests to play would haunt her after the storm hit her house and she is afraid of the fate of her sister and that of her mom. We see some exasperation with Jersey and her mom requesting her to do chores, and Jersey's reminiscing how she would feel less burdened by helping when it was just her and her mom, but it is harder on her know that her mom is remarried and the number of people have doubled. We can see that her and her mom had a close relationship even with the current teenage entitlement and bucking against what asked to do.
When the tornado hits, there is automatic fear and a great sense of loss. Not only was Jersey worried about her whole family who wasn't at home, but seeing the devastation of the storm on their house and belongings. When the storm passes and she makes her way outside she sees so much of her neighborhood and everything she can see is torn up. Even the roads, so they are cut off from emergency vehicles.
The neighbors band together as much as possible at first, searching for survivors in the wreckage and figuring out shelter from the following rain and thunderstorms. That knitting together in tragedy when so much in uncertain kept some lightness even though it was such a harrowing situation to be in. Helping and giving what's left of your possessions when you are dealing with your own sense of loss shows to the goodness that is in so many people.
Jersey was a mix of strong and vulnerable. Opening up to her friends and neighbor who helped her too right after the tornado hit was where we could see how much she was struggling. But she just keeps dealing with each challenge and figuring out some way to survive. She has this honesty in her voice, where we know that she is going through a lot, but she somehow manages to keep some optimism.
It was a long road for Jersey to even get to a place where she felt wanted and loved, but I was pleased at how the story wrapped up. Maybe a bit more time with her final living arrangements but I did like that it wasn't perfect for her right away and that she learned more of the young side of her mom who made mistakes in her life as well as how she portrayed extended family.
Bottom Line
: Powerful and emotional story about a town and in particular one strong teen devastated by a tornado.
My question to you, my lovely readers:
Have you ever been closely involved with a natural disaster?