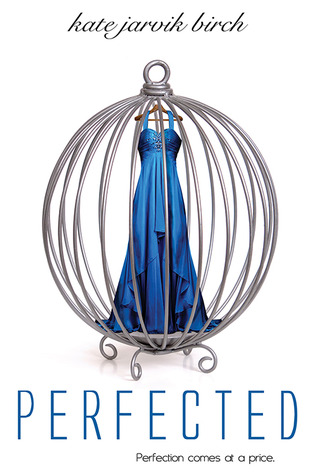 Perfection comes at a price.
As soon as the government passed legislation allowing humans to be genetically engineered and sold as pets, the rich and powerful rushed to own beautiful girls like Ella. Trained from birth to be graceful, demure, and above all, perfect, these "family companions" enter their masters' homes prepared to live a life of idle luxury.
Ella is happy with her new role as playmate for a congressman's bubbly young daughter, but she doesn't expect Penn, the congressman's handsome and rebellious son. He's the only person who sees beyond the perfect exterior to the girl within. Falling for him goes against every rule she knows…and the freedom she finds with him is intoxicating.
But when Ella is kidnapped and thrust into the dark underworld lurking beneath her pampered life, she's faced with an unthinkable choice. Because the only thing more dangerous than staying with Penn's family is leaving…and if she's unsuccessful, she'll face a fate far worse than death.
For fans of Keira Cass's Selection series and Lauren DeStefano's Chemical Garden series, Perfected is a chilling look at what it means to be human, and a stunning celebration of the power of love to set us free, wrapped in a glamorous—and dangerous—bow.
Publishes in US:
July 1st 2014 by Entangled: Teen
Genre: YA dystopia
Source: Entangled Teen via Netgalley
Series? No?
Buy it:
Amazon
Barnes & Noble
IndieBound
Book Depository
Author stalk away: ~
site
~
twitter
~
facebook
~
blog
Perfected stood out to me as a book to be read because I liked the sound of the premise. Chilling that humans with thoughts can be purchased for entertainment and raised for a life like this, but I liked the sound of Penn, the to be romantic interest and where that will lead. Though it does say a life of luxury, it is still hard to reconcile that you can be trained to be graceful and demure but then sold as a pet.
While I liked Ella, that she felt so real with her insecurities, it was also a little weird. I was at a bit of a distance because I have never been in a similar situation, being trained to make others happy. It was certainly interesting to see what they were taught, and see how it translates into getting her own family.
Ruby is the youngest and really takes to Ella. She wants to be her friend, and also adds an element of truth to the family that I am not sure how we would have been clued into as soon. Ella's family had a pet before, and it comes out that she was sick and was taken back to the kennels.
While I liked the romance with Ella and Penn, it felt a little underdeveloped especially before the twist and things that led to the ending. Though I suppose that there was a lot going on that forced his hand to move as quickly as he did towards making a stand, but still. I did like the chemistry between them. I think he saw more about her and through her by her reactions to music, and then he reveled in showing her new things, like banana splits and new songs instead of the classical piano she was trained on.
As far as the congressman goes, I think that the world was pretty well set up. I think that they could have been a little more clear on some of the steps to the allowance of the genetically engineered teens as pets instead of having us on the brink of that being okay. But I still thought it was a solid premise, scary and chilling, but interesting.
The mystery and build up of what happened to the family's previous pet felt a little too staged for me. It was whispered a lot over and over with no information only to confirm what I expected. Although Ruby's friend Jayne and her pet did bring up some other issues that I was wondering about such as age and when their owners tire, but I think those could have been explored more.
The ending was so-so for me. I liked the courage and strength, as well as the kindness of others in helping Ella. But I didn't feel like it was resolved enough for me. I didn't get quite the HEA I was looking for, unless this is a series, and in which case, disregard everything I said in this paragraph.
Overall, Perfected had a good premise, and it was a fast read. I finished it virtually in one sitting, so it had enough going on plot and character wise to keep me engaged.
Bottom Line
: Has some issues, but I still enjoyed and would keep reading.
My question to you, my lovely readers:
Do you think that you could accept a genetically engineered pet?