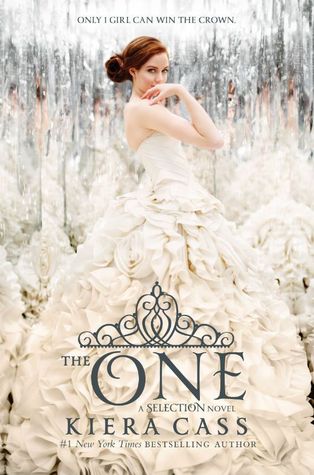 The One (The Selection #3) by Kiera Cass
The highly anticipated conclusion to Kiera Cass's #1 New York Timesbestselling Selection series, The One will captivate readers who love dystopian YA fiction and fairy tales. The One is the perfect finale for fans who have followed America's whirlwind romance since it began--and a swoon-worthy read for teens who have devoured Veronica Roth'sDivergent, Ally Condie's Matched, or Lauren Oliver's Delirium.
The Selection changed America Singer's life in ways she never could have imagined. Since she entered the competition to become the next princess of Illéa, America has struggled with her feelings for her first love, Aspen--and her growing attraction to Prince Maxon. Now she's made her choice . . . and she's prepared to fight for the future she wants.
Find out who America will choose in The One, the enchanting, beautifully romantic third book in the Selection series!
Publishes in US:
May 6th 2014 by HarperTeen
(first published 2014)
Genre: YA light dystopia
Source: library
Series?
The Selection #3
My reviews:
#1
The Selection by Kiera Cass
#2
The Elite by Kiera Cass
Buy it:
Amazon
Barnes & Noble
IndieBound
Book Depository
Author stalk away:
website
.
Twitter
,
Goodreads
,
Facebook
I wanted to read The One because I enjoyed the other two. The selection process has been hard, and I have seen a lot of change in America. The love triangle and some of America's lack of decisiveness when it comes to her preferred man has been on my nerves a bit, but the first two were still addicting to me and I grew to like Maxon more and more, and saw the desire to be a princess and future queen bloom in America and then see the ideas for chance that she had.
The One didn't let me down, and I really enjoyed her journey. There were so many times when I thought that her rash decisions, or her strength and desire for justice to be done were going to the the end of her quest to the crown.
I also loved the tension between the two of them. America and Maxon both kept some secrets and didn't want to fully express their feelings, and while I understood where they were coming from and their reasonings, it was still hard because I just wanted them to be together and happy.
America had some big losses in this one, but she's grown a lot, and amassed quite the fans and followers. As well as making friends with her maids as well as some other unexpected people who make a return appearance. The friends that she made within the other Elite were unexpected to me, and some sage wisdom from the queen helped to actually bring them together, which in some ways, made their quest even harder but others easier, because they had someone who understood them on their sides, and closest to ever walking in their shoes.
The ending wrapped things up in the way that I'd hoped, and brought about some changes that I wasn't quite expecting but it gave me a lot of hope for America, Maxon, Aspen, and the others that I came to care about.
Bottom Line
: Good ending to addicting series.
My question to you, my lovely readers:
Would you want to be a princess?