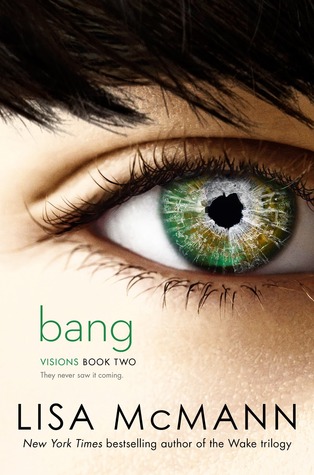 Bang (Visions #2) by Lisa McMann
Jules should be happy. She saved a lot of people's lives and she's finally with Sawyer, pretty much the guy of her dreams. But the nightmare's not over, because she somehow managed to pass the psycho vision stuff to Sawyer. Excellent.
Feeling responsible for what he's going through and knowing that people's lives are at stake, Jules is determined to help him figure it all out. But Sawyer's vision is so awful he can barely describe it, much less make sense of it. All he can tell her is there's a gun, and eleven ear-splitting shots. Bang.
Jules and Sawyer have to work out the details fast, because the visions are getting worse and that means only one thing: time is running out. But every clue they see takes them down the wrong path. If they can't prevent the vision from happening, lives will be lost. And they may be among the casualties…
Publishes in US:
October 8th 2013 by Simon Pulse
Genre: YA Paranormal
Source: library
Series?
Visions #2
my review of #1
Crash by Lisa McMann
Buy it:
Amazon
Barnes & Noble
IndieBound
Book Depository
Author stalk away:
~
site
~
twitter
~
facebook
Bang has been on my TBR since I finished Crash and I cannot believe that its taken me so long to get around to it. I love Lisa's writing style and have since her first series. She makes relatable characters that are flawed but live life hard. She has a snarky voice and a dry humor that I adore. Both of these things carried into Bang, and I was so glad to be reunited with the characters.
Being back in Jules head is like sitting down on a favorite comfy couch. I got lost in her world and narration and time flew as I laughed with her and felt the tension and suspense of finding an answer and really hoping that no one ends up dead. Especially the guy she's falling in love with. Sawyer is so darn cute, and I love their romance. It goes up a bit on the hot scale, and I love how Jules thinks about it like normal girls do and Lisa isn't afraid to candidly write about their first encounters with heavy making out.
It was unique and added an extra layer of plot twistiness that the visions were coming from Sawyer now, and while Jules has been in his shoes, their situations are pretty different. She can empathize and bring good ideas to the table, but she isn't the one who is seeing gruesome and scary things and making the accompanying hard decisions about what to do and how to figure out how that works.
It picks up right where Crash left off and I liked that. The relationships and dynamics haven't really changed that much except Jules and Sawyer are together and some people are none too happy about that.In this one, we get more of Rowan and of Trey (Jules sister and brother) and I thoroughly enjoyed the aspect and theme of family that it brought to the story. Jules dad is still pretty unstable mentally and emotionally and they never know what they are going to get. The italian restaurants are still a part of the story and the feud between the two families certainly complicates things from the adults' perspective between Jules and Sawyer.
I liked how the twists came together, and how Jules and Sawyer ended up figuring out what to do and the courage they showed in stepping up for others. I ended well and tied up all of the plot lines of this book while still leaving me excited for the third.
Bottom Line
: Fast paced and snarky, flew through it.
My question to you, my lovely readers:
Would you want to have visions if you could change tragic events at personal cost?