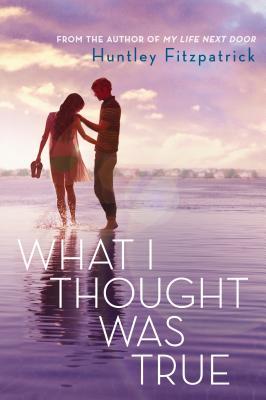 What I Thought Was True by Huntley Fitzpatrick
From the author of My Life Next Door comes a swoony summertime romance full of expectation and regret, humor and hard questions.
Gwen Castle's Biggest Mistake Ever, Cassidy Somers, is slumming it as a yard boy on her Nantucket-esque island this summer. He's a rich kid from across the bridge in Stony Bay, and she hails from a family of fishermen and housecleaners who keep the island's summer people happy. Gwen worries a life of cleaning houses will be her fate too, but just when it looks like she'll never escape her past—or the island—Gwen's dad gives her some shocking advice. Sparks fly and secret histories unspool as Gwen spends a gorgeous, restless summer struggling to resolve what she thought was true—about the place she lives, the people she loves, and even herself—with what really is.
A magnetic, push-me-pull-me romance with depth, this is for fans of Sarah Dessen, Jenny Han, and Deb Caletti.
Publishes in US:
April 15th 2014 by Dial Books for Young Readers
Genre: YA contemp
Source: library
Series? no
Buy it:
AMAZON
|
BARNES & NOBLE
|
INDIEBOUND
Author stalk away:
Site
Facebook
Twitter
I wanted to read What I Thought Was True because I read and adored My Life Next Door. I was needing something mostly light but had depth and emotion under the surface.
I liked Gwen and her voice. There is obvious history with her and how she relates with others from her school, especially boys, and I wanted to know the details. I also liked her best friend and their conversations. She is real and they both seem like people that I could have been friends with in high school. But as the book progresses I ended up having issues with some of the actions.
I could also relate to how Gwen hopes for more for her future, but feeling held down by family and their economic status. But for all of the reasons that I might be emotionally invested in her, I just wasn't. I kept finding other things to do after laying down. Nothing bad, just nothing that was screaming pick me up and read me. I think that it was too long and it tried to flesh out characters and plots that took too long to set up and demand my heart and attention.
Getting the history to finding out the dynamics of Gwen and Cass as well as her reputation was slow in coming. I think that is one reason that I didn't get into this one more than I did. I def liked her other book a lot better than this one. Though I connected with Gwen, I think that between her younger brother with special needs, Alex who comes on scene, Liv and Nico her cousin, and then her past with Cass, and the current I have no idea if they are flirting or he feels guilty dynamic at first made it harder for me to love this one more.
I did like that the family closeness with Gwen and her dad as well as them and Emory, the younger brother who needs more love and attention, lots of patience and just a love for kids.
Buddies who loved it:
Bottom Line
: Okay to me, but loved her first book more and expected more.
My question to you, my lovely readers:
Did you want to leave the town you grew up in?