I wrote a post about
negative reviews
, and how I don't review if I don't finish, and a very wise blogger pointed out that knowing what a blogger doesn't like can be valuable to publishers and authors too. I think that it also helps my readers build trust that I am not just slapping good ratings on everything I read. I have a knack for picking what I will lack based on synopsis and reviews, but that even fails. Then another blogger mentioned she did a did not finish post and I thought it was a great idea. So, here we go:
The Beginning of After by Jennifer Castle
Anyone who's had something truly crappy happen to them will tell you: It's all about Before and After. What I'm talking about here is the ka-pow, shake-you-to-your-core-and-turn-your-bones-to-plastic kind of crappy.
Sixteen-year-old Laurel's world changes instantly when her parents and brother are killed in a terrible car accident. Behind the wheel is the father of her bad-boy neighbor, David Kaufman, whose mother is also killed. In the aftermath of the tragedy, Laurel navigates a new reality in which she and her best friend grow apart, boys may or may not be approaching her out of pity, overpowering memories lurk everywhere, and Mr. Kaufman is comatose but still very much alive. Through it all there is David, who swoops in and out of Laurel's life and to whom she finds herself attracted against her better judgment. She will forever be connected to him by their mutual loss—a connection that will change them both in unexpected ways.
Jennifer Castle's debut novel is a heart-wrenching, surprisingly witty testament to how drastically life can change in the span of a single moment.
Published in US:
September 6th 2011 by HarperTeen
Genre: ya contemporary
Source: library
Series? no
Buy it:
IndieBound
|
Barnes & Noble
|
Amazon
Author stalk away:
site
twitter
facebook
Stopped at: 20%
The Beginning of After has been on my wishlist for a while now. I normallylove these types of contemporaries because the emotional highs and lows are some of my most dear comforts.
I liked Laurel from the start, but honestly, in her Before, I felt like too many names were being thrown at me and I didn't get a good feel for the characters. In some ways it felt rushed, as did the actual news and funeral of her parents and brother. But I can understand that the right after could be shock and just not really anything or the magnitude of the loss not sinking in.
To me, it just felt like the story didn't progress. I couldn't stay interested. That isn't to say that the writing is poor or the characters are poorly constructed, it's personal on my end.
Positive Reviews:
The Symptoms of My Insanity
A laugh-out-loud, bittersweet debut full of wit, wisdom, heart, and a hilarious, unforgettable heroine.
When you're a hypochondriac, there are a million different things that could be wrong with you, but for Izzy, focusing on what could be wrong might be keeping her from dealing with what's really wrong.
I almost raised my hand, but what would I say? "Mr. Bayer, may I please be excused? I'm not totally positive, but I think I might have cancer." No way. Then everyone at school would know, and they would treat me differently, and I would be known as "Izzy, that poor girl who diagnosed herself with breast cancer during biology."
But Izzy's sense of humor can only get her so far when suddenly her best friend appears to have undergone a personality transplant, her mother's health takes a turn for the worse, and her beautiful maybe-boyfriend is going all hot and cold. Izzy thinks she's preparing for the worst-case scenario, but when the worst-case scenario actually hits, it's a different story altogether—and there's no tidy list of symptoms to help her through the insanity.
Source: library
Find Mindy Raf online:
Website
Twitter
Facebook
Stopped at 10%
Again, another book that has all of the potential to get my attention. I love a story about illness, and hypocondria would fall under that in my mind.
But I didn't connect with Izzy, I didn't feel the humor or her emotions. I have to connect with a character in order to really be invested and that aspect was missing for me.
Also, I know that boobs are on the mind of girls who have them and girls who wish they did--but it felt like that was a plot line of its own. Maybe trying to hard to get the teen dialogue and what they think about out of proportion. That isn't to say that the writing is poor or the characters are poorly constructed, it's personal on my end.
Positive reviews: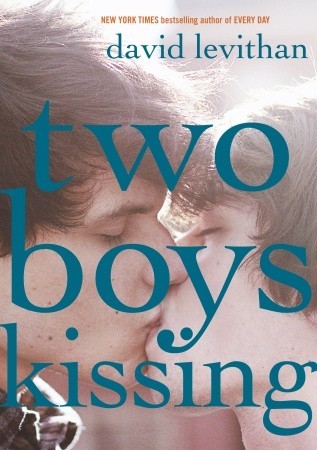 Two Boys Kissing by David Levithan
New York Times bestselling author David Levithan tells the based-on-true-events story of Harry and Craig, two 17-year-olds who are about to take part in a 32-hour marathon of kissing to set a new Guinness World Record—all of which is narrated by a Greek Chorus of the generation of gay men lost to AIDS.
While the two increasingly dehydrated and sleep-deprived boys are locking lips, they become a focal point in the lives of other teen boys dealing with languishing long-term relationships, coming out, navigating gender identity, and falling deeper into the digital rabbit hole of gay hookup sites—all while the kissing former couple tries to figure out their own feelings for each other.
Stopped at: 8%
Amazon
Source: library
Okay. So the whole greek chorus thing=not for me. The narrator is dead greek guys, and I couldn't get used to it.
That isn't to say that the writing is poor or the characters are poorly constructed, it's personal on my end.
Positive reviews:
Otherbound by Corinne Duyvis
Amara is never alone. Not when she's protecting the cursed princess she unwillingly serves. Not when they're fleeing across dunes and islands and seas to stay alive. Not when she's punished, ordered around, or neglected.
She can't be alone, because a boy from another world experiences all that alongside her, looking through her eyes.
Nolan longs for a life uninterrupted. Every time he blinks, he's yanked from his Arizona town into Amara's mind, a world away, which makes even simple things like hobbies and homework impossible. He's spent years as a powerless observer of Amara's life. Amara has no idea . . . until he learns to control her, and they communicate for the first time. Amara is terrified. Then, she's furious.
All Amara and Nolan want is to be free of each other. But Nolan's breakthrough has dangerous consequences. Now, they'll have to work together to survive--and discover the truth about their connection.
source: netgalley
Read to 8% then skimmed to 15%
I wanted to read Otherbound because of the medical aspect and I like some fantasy so that world setup and how the two worlds of completely different people are so intertwined.
Nolan has what they have diagnosed as seizures--when he closes his eyes he's drawn into Amara's world. He sees what she sees, and understandably being drawn into a different world will cause issues--one of which cost him his leg. He wants a normal life, but he has limitations. I really liked his point of view, but it changed and confused me at times when he saw Amara's life.
I didn't connect with Amara. Yes, she had a noble profession, and she worked hard, but I couldn't find anything that demanded me to invest in her character, so I felt lackluster when her pov or world is the main focus.
That isn't to say that the writing is poor or the characters are poorly constructed, it's personal on my end.
Positive reviews:
My question to you, my lovely readers:
Do you have a before and after event in your life?