Initiation by Rayna Noire
Author Rayna Noire writes paranormal fiction with realistic Pagan characters. The Pagan Eyes series introduces the Carpenter family whose members face personal issues, along with time travel, danger, and death.
Initiation is Leah's story.
Leah Carpenter thought being the only witch in her local high school was hard. That was until she inexplicably found herself in the past running from an angry mob, which turned out to be much harder. Growing up comes fast as she wrestles with surviving in another century and mistaken identity. Fast thinking, luck, and whole lot of magick might get her out of her current dilemma; then again, it might not.
Initiation is .99 on Kindle.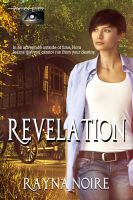 Revelation
Nora Carpenter is a trainee assistant physician, a part-time diner chef…and a witch. Hiding from the memory of a traumatic rape – fuelled by prejudice over her eccentric reputation – she keeps herself to herself. Hard work, study, and a cold shoulder to any guy that crosses her path, seem like her best defense.
But when Nora starts having vivid dreams about a compelling, mysterious stranger with dark curls, sexy eyes and a charming Irish lilt, her defenses seem to be breaking. He says he is her soulmate – that he has conquered many centuries to contact her. Can this be real? Or is she going mad? Nora tries to fight the gentle seduction that threatens to thaw her icy façade. But when she's forced to come face to face with real evil she must call on all her magickal resources, including her lover from another life, to save her.
In an adventure outside of time, Nora learns that you cannot run from your destiny.

Read 1st chapter free: http://raynanoire.weebly.com/2/post/2014/02/initiation-free-readchapter-one.html
Initiation youtube:
- Get first in series, Revelation free
here
$20 Amazon and 3 ebooks and 3 paperbacks of Initiation by Rayna Noire. Paperbacks are US only, ebooks are Int. Amazon card is open to anyone who can use amazon.com giftcards.
-Fill out Rafflecopter to enter
-Ends on 5/10/2014 11:59 pm EST
-If you win a review on your blog and/or amazon is appreciated but not required.
*If, for whatever reason, the Rafflecopter widget does not appear, you can click on the link where it says rafflecopter giveaway and it will show up, sorry for the inconvenience.
a Rafflecopter giveaway