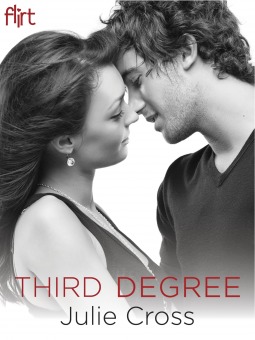 Third Degree by Julie Cross
Fans of Monica Murphy and Tammara Webber will savor this New Adult novel—a story about coming of age in the heat of the moment—from Julie Cross, the internationally bestselling author of the Tempest trilogy.
I used to be "Isabel Jenkins, child prodigy." As lame as that sounds, at least it was an identity. But now I'm not sure what I am. I just failed the most important exam of my life—the emotional readiness test required to get into a medical residency program—and it turns out my parents can't stand each other. Now I'm trying to figure out how to pick up the pieces of my life, and that means re-enrolling as a college freshman, but this time I'm shutting the books and majoring in being eighteen.
But so far, my roommate hates me and I'm not into the party scene. The only good thing about school has been getting to know my insanely hot RA. Marshall Collins makes me wonder about everything I missed while I was growing up too fast. Pretty soon we're hanging out constantly, but for the first time, I find myself wanting more than a no-strings-attached physical relationship. And the lesson I really need is one Marsh definitely can't teach me: love. Because I'm going to be alone forever if I don't learn fast.
Publishes in US:
March 25th 2014 by Flirt
Genre: NA contemp (yes, another one. If you are burnt out or don't like NA, this probably isn't for you)
Source: Netgalley
Series? No
Buy it:
Random House
l
Amazon
l
Barnes and Noble
IndieBound
Book Depository
Author stalk away: ~
site
Goodreads
|
Facebook
|
Twitter
I wanted to read this because my attention went to the medical student and I love medical drama, it makes my heart happy. I loved ER, love Grey's, and although Izzy is going to college to learn to fit in to keep practicing medicine, you can tell it is written on her DNA and she can't help herself but be nerdy.
Nerdy girls make me happy. She is hardcore smart and did everything at an accelerated pace, but now she is told she doesn't have empathy and that she isn't connecting her delivery to patient care, so off she goes to "regular" college to experience some of the life she missed because of school work. She is so awkward and it makes for some pretty blush inducing and interesting situations, making me laugh and feel for her at the same time.
She slowly learns how to interact with her peers, and she has the help of her hot RA Marsh. He is certainly swoon-worthy because they have an intense chemistry causing feelings for Izzy that she isn't sure what to do with. She's done the affairs, the benefits, but no real boyfriends persay. So, they flit on that forbidden line because as an RA he isn't supposed to cross the friends line, and she is frustratingly smart and something in him is turned on and drawn to help her.
After a bad start (not to mention hilarious and embarrassing) with her roomate, Marsh manages to get Kelsie on board with helping Izzy. Marsh knows Izzy's full story but she isn't telling anyone that she was a medical intern, so the cover story is that she was homeschooled to cover up the social awkwardness. But Marsh grew up in the same town and had Izzy's mom as a teacher so he knew about prodigy child from the start, and he keeps in on the DL for Izzy.
The chemistry was amazing and overall fun and fast NA read. The twist in this one did surprise me though. I liked that it was more the guy that had some vulnerabilities and weaknesses. It didn't show in his character, he still put others first, was a family guy, and always put forward his best foot and tried his best at school. Marsh loved hard, but his secret broke my heart. Maybe I should have seen it coming with Izzy being a doctor in training and all.
With the medical stuff involved Julie handled subject very well, it can be embarrassing and debilitating, but I think that she handled that well. It gave details, but not enough to freak anyone out or gross out (unless pretty squeamish).
I liked how everything wrapped up as well as the epilogue. I would have liked a little more closure from the epilogue I think, if it is going to be there, then give me a wrapped in a bow ending, but that could just be me.
Bottom Line
: The chemistry was amazing and overall fun and fast NA read with a twist that surprised me.
My question to you, my lovely readers:
Did you know as a kid what you wanted to be when you grew up? Is that what you are or related?