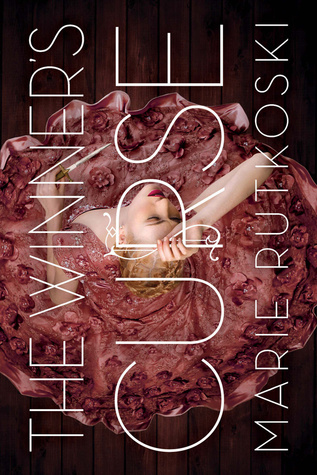 The Winner's Curse (The Winner's Trilogy #1) by Marie Rutkoski
Winning what you want may cost you everything you love
As a general's daughter in a vast empire that revels in war and enslaves those it conquers, seventeen-year-old Kestrel has two choices: she can join the military or get married. But Kestrel has other intentions.
One day, she is startled to find a kindred spirit in a young slave up for auction. Arin's eyes seem to defy everything and everyone. Following her instinct, Kestrel buys him—with unexpected consequences. It's not long before she has to hide her growing love for Arin.
But he, too, has a secret, and Kestrel quickly learns that the price she paid for a fellow human is much higher than she ever could have imagined.
Set in a richly imagined new world, The Winner's Curse by Marie Rutkoski is a story of deadly games where everything is at stake, and the gamble is whether you will keep your head or lose your heart.
Publishes in US:
March 4th 2014 by Farrar Straus Giroux
Genre: YA fantasy
Source: library
Series?
The Winner's Trilogy #1
#2 The winner's crime publishes March 3rd 2015
Buy it:
Amazon
The Book Depository
IndieBound
Barnes & Noble
Author stalk away:
Author Website
The Winner's Curse Website
Author Twitter
blog
facebook
I wanted to read The Winner's Curse because I am a big fan of forbidden love when written correctly and what is that more than "master" and a slave. I also appreciate when a female lead is strong and Kestrel certainly fills that role. I've also read so many positive reviews from blogger buddies, that I knew I had to give it a read.
The world building is nice and it transports me to a different world where women must marry or be a soldier and the in between required escorts among other restrictions. I could picture Kestrel walking down the street to the market with her friend Jess, sweating it out in the slave auction, and playing furiously on the piano or in the stables or blacksmith forge with Arin.
I don't know if I am just getting more used to it but the 3rd pov didn't distract me or take away from how much I enjoyed the read. It also gives us a different access to both Arin and Kestrel.
The characters of both Arin and Kestrel fascinated me and I really enjoyed their scenes together, working around their chemistry, but also the entire forbiddeness of it all. But neither can resist spending time with the other. Even with the complications of Kestrel officially owning Arin, and then the whole twist of Arin's purpose and how that effects their relationship.
Its hard to talk about some of the things that really impacted me, because the twists are serious spoilers and some of it surprised me and others it just hurt to watch all of the heartache and tragedy. The changing dynamics between Arin and Kestrel though was fascinating to watch and how each responded to the changes. I can totally see where both are coming from keeping their secrets and doing things that may seem wrong but just having the other's best interest at heart.
Not only is Kestrel dealing with her feelings for her slave, she also has the expectations of her high ranking father. She doesn't want to marry, and she doesn't want to enter the military. But she feels the pressure and wants to please her dad. She has some interest in warfare but not so much sword play and she doesn't want to give up her music. That is one of the things that created the initial combined interests/loves between her and Arin. But she also has no interest in the kind of men courting her.
The ending was shocking and full of action and changes, betrayals, secrets that catch up to each other, as well as the feelings for each other that just won't go away and complicates their every decision. I can't wait until the next book and I am so glad that I paid attention to the hype for this book and was finally able to get a chance to read it.
Bottom Line
: Characters steal the show but still lots of action and a seriously forbidden love.
My question to you, my lovely readers:
Have you ever loved someone you shouldn't?