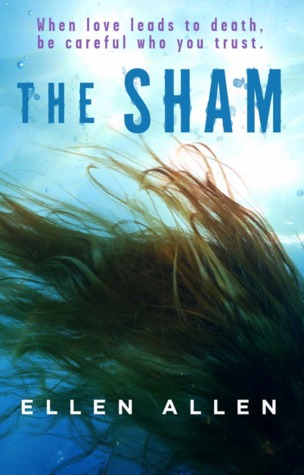 The Sham by Ellen Allen
When love leads to death, be careful who you trust…
Eighteen-year-old Emily Heath would love to leave her dead-end town, known locally as "The Sham", with her boyfriend, Jack, but he's very, very sick; his body is failing and his brain is shutting down. He's also in hiding, under suspicion of murder. Six months' ago, strange signs were painted across town in a dialect no one has spoken for decades and one of Emily's classmates washed up in the local floods.
Emily has never trusted her instincts and now they're pulling her towards Jack, who the police think is a sham himself, someone else entirely. As the town wakes to discover new signs plastered across its walls, Emily must decide who and what she trusts, and fast: local vigilantes are hunting Jack; the floods, the police, and her parents are blocking her path; and the town doesn't need another dead body.
WARNING: THIS BOOK IS UNSUITABLE FOR YOUNGER TEENAGE READERS. IT DEPICTS ADULT SITUATIONS, MURDER SCENES, CONVERSATIONS ABOUT SEX AND PROFANITY.
The Sham's playlist:
As I was writing the book, I had these songs in my mind
at key scenes in the plot; they make a great album:
1. Thomston, Burning out
Emily is forced to watch as four of her classmates bully
a small boy in the local playground. She meets Jack and,
together, they are able to save him. Everyone is
traumatized but Jack helps her to feel better: "I'm
coming up, I'm too young to worry bout burning out".
2. Girls in Hawaii, Where do your tears come from?
This is a very moody and atmospheric song for when
Emily finds out that her classmate – one of the
playground bullies – is dead.
3. Snakehips (ft. Sinead Harnett), Days with you
After tourists claim Jack is their long lost nephew,
someone called Matthew, Jack disappears and Emily
convinces herself that she really is "better off without
you". It has a great vibe and it's very upbeat, even
though it's sad.
4. Ed Sheeran, Thinking out loud
This is the music playing for Emily and Jack's first kiss;
"Take me into your loving arms. Place your head on my
beating heart." Aaaah.
5. Ella Eyre, Deeper
Jack doesn't give away his emotions easily and this song
perfectly encapsulates what Emily thinks Jack is feeling
– that he doesn't want to commit – and how he should
"dig a little deeper".
6. Lennie Kravitz, The Chamber
The police manage to convince Emily that Jack is
actually Matthew. She's angry, hurt, upset and feels
betrayed: "You killed the love that was once so strong.
With no regret to what you did wrong".
7. Jessie Ware, Wildest moments
This song is playing over the speakers of the
supermarket café when Emily finally finds everything
out – about who Jack really is and who killed the girls. It
manages to perfectly encapsulate the complexity of
Jack and Emily's relationship and the situation she has
to deal with at the end of the book; "we could be the
greatest, we could be the worst of all".
8. Clean Bandit (featuring Jess Glynne), Rather Be
This song conveys the end of the book brilliantly and
leaves us on a really upbeat tone. It's a tip top tune!
Giveaway is for: 5 copies of The Sham by Ellen Allen
Open Int
If under 18, must have parent's permission.
No Purchase Necessary
Open: 10/21 - 11/18
The Sponsor: author
Winners will be chosen by giveaway host and notified by email. They will have 48 hours to respond.
Email addresses or physical addresses or any personal information will not be sold
Liability: Brandi Breathes Books is not responsible for lost or stolen packages
Brandi Breathes Books Giveaways are hosted in Holly Springs, NC USA
Void where prohibited by law
-If you win a review on your blog and/or amazon is appreciated but not required.
*If, for whatever reason, the Rafflecopter widget does not appear, you can click on the link where it says rafflecopter giveaway and it will show up, sorry for the inconvenience.
a Rafflecopter giveaway