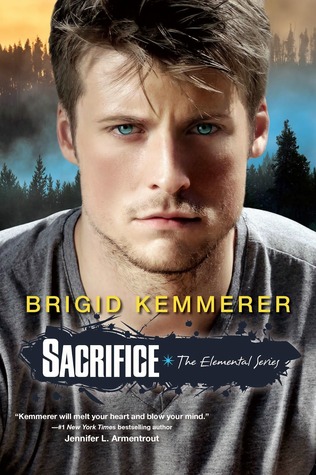 Sacrifice (Elemental #5) by Brigid Kemmerer
Earth. Fire. Air. Water.
One misstep and they lose it all. For the last time.
Michael Merrick understands pressure. He's the only parent his three brothers have had for years. His power to control Earth could kill someone if he miscalculates. Now an Elemental Guide has it in for his family, and he's all that stands in the way.
His girlfriend, Hannah, understands pressure too. She's got a child of her own, and a job as a firefighter that could put her life in danger at any moment.
But there are people who have had enough of Michael's defiance, his family's 'bad luck'. Before he knows it, Michael's enemies have turned into the Merricks' enemies, and they're armed for war.
They're not interested in surrender. But Michael isn't the white flag type anyway. Everything is set for the final showdown.
Four elements, one family. Will they hold together, or be torn apart?
Publishes in US: September 30th 2014 by Kensington Teen
Genre: YA paranormal
Source: Netgalley
Series? Yes.
Elemental #5
My review of previous
#1
#2
#3
#4
Novellas: 1.5 and 2.5
Buy it:
Amazon
Barnes & Noble
IndieBound
Book Depository
Author stalk away:
site
twitter
facebook
blog
I wanted to read Sacrifice because I have loved getting to know the Merrick brothers in this series. They all have their own personalities and stories as well as girls that they are in love with. But as brothers there is always the element of family and the fact that Michael helped hold them together as the oldest after their parent passed. The paranormal magic in this one is also neat, learning about each brother and Hunter's powers and how they work together. There has always been someone to oppose them though, which has added plenty of tension and action to the stories.
It was nice getting back to the world and into the head of Michael. He shoulders such a load because he has taken over guardianship of his brothers, and he wants to be a good role model for them and be there for them. In this book his livelihood, his home and sense of security in a lot of ways is ripped from him. He becomes a suspect in fires and other disasters that center around him, and I feel so much for him. He has to keep their powers a secret, and there are lots of things pointing at him as a possibility because of his and his brother's elemental powers.
We also get the point of view of Hannah, Mike's girlfriend. She has her son, and she's a fire fighter. Her dad is the marshal, so there is plenty of pressure on her in a male dominated work environment and such shoes to fill. Then as Michael is under investigation she believes to much in his innocence but has to admit that the obvious signs are pointing to his involvement. I liked her strength and loyalty as well as her responsibility. he has a son and she tries so hard to be a good mom to him even though she had him earlier in life than most.
While I liked Michael and how much he is willing to do to protect his brothers and to be there for everyone. He is fiercely loyal and has so much that should be so drool worthy, this wasn't my favorite of the Merrick books. I did like his connection with Hunter and how we get to learn more about him. There is also a surprise ally that was neat to get his perspective and how much he stepped up. There was a lack of his other brothers though. They weren't on the scene as much and even though there was a lot of Michael and he learned to accept some help after so much trying to be strong.
I totally wasn't prepared for it to end where it did, because my kindle told me there was still a good 30% left, but it is the novellas included. So, yes, I did like where this one stopped and how things were resolved for now, I just was surprised and geared up for more.
Bottom Line
: Solid book moving the action and plot along.
My question to you, my lovely readers:
Have you ever been in charge of a sibling?