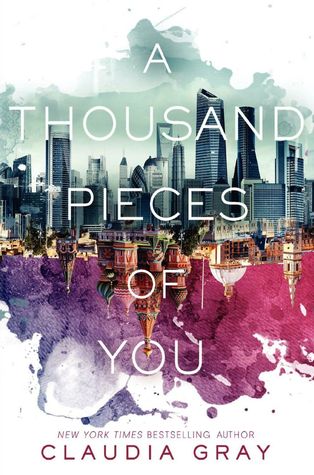 A Thousand Pieces of You (Firebird #1) by Claudia Gray
Every Day meets Cloud Atlas in this heart-racing, space- and time-bending, epic new trilogy from New York Times bestselling author Claudia Gray.
Marguerite Caine's physicist parents are known for their radical scientific achievements. Their most astonishing invention: the Firebird, which allows users to jump into parallel universes, some vastly altered from our own. But when Marguerite's father is murdered, the killer—her parent's handsome and enigmatic assistant Paul—escapes into another dimension before the law can touch him.
Marguerite can't let the man who destroyed her family go free, and she races after Paul through different universes, where their lives entangle in increasingly familiar ways. With each encounter she begins to question Paul's guilt—and her own heart. Soon she discovers the truth behind her father's death is more sinister than she ever could have imagined.
A Thousand Pieces of You explores a reality where we witness the countless other lives we might lead in an amazingly intricate multiverse, and ask whether, amid infinite possibilities, one love can endure.
GR
Publishes in US:
November 4th 2014 by Harper Teen
Genre: YA sci fi
Source: harper teen via edelweiss
Series? yes
Firebird #1
Buy it:
Amazon
Barnes & Noble
Indie Bound
Author stalk away: ~
site
~
twitter
~
facebook
~
blog
Okay, cover snob warning ahead. I was first drawn to it because of the gorgeous cover art and then I read the synopsis and I have always been interested in the concept and fiction of alternate realities.
The suspense in this one is well set up. With Marguerite (Meg's) dad recently deceased, and her having grown up to a certain extent with the suspsect of the murders--Paul. Her and her crush Theo, who also was a lab assistant and around her and her family so much, take out to hunt down Paul as he stole the device that makes traveling to the parallel universes possible. Theo, a physicist himself had tinkered with old prototypes and they were able to use that to chase him.
We begin to see that things are more complicated than they seem on the surface. She has memories with Paul where he seems so kind and tender. There are also hints of a love triangle that I wasn't sure that I wanted to see played out but also just had to know about my suspicions. Theo, while he seems like a great guy with good intentions, we find out that as smart as he is, he is also got a wild side. Paul, as we see in the 2nd time jump also has a lot more to him than the surface.
I ended up loving the romance and can't wait to see how it progresses. Though it does bring up a lot of ethical dimensional travel questions that I thought was really well done. Some of the worlds they travel to almost exactly mirror the dimension they started with, changes being a little less or more tech while others leave Meg jumping into a Meg that is a russian princess. This was actually my favorite time because of the romantic themes here and how it played out. But each Meg, Theo and Paul as well as Meg's parents and whether they are alive or not changes. So if Meg falls deeply for one of the guys, but he is a different version than the one she knew in her home dimension, is she stealing from the Meg in that dimension, and how much of that guy is the same and different? Can the romance travel with each of their jumps and the different versions of themselves? It was delicious.
I did appreciate the different ways that technology, the environment as well as social leaders have stayed the same or changed in each dimension jump. One was a semi-aquatic world, another not nearly as advanced and from a different cultural stand point, another set in London. Each world was well thought out and believable.
The world building was both understandable but over my head if that makes any sense. The family was physicists and while Meg couldn't understand it all, we got to see it through her understanding, which at times was still over my head, but better than if she also understood all that Theo, Paul and her parents did. (Don't ask about that cat in the box had me snickering because I have seen science nerds debate such things)
The ending was good, but I am totally excited to read more and see where things go once all is revealed in this one.
Bottom Line
: Engrossing and well done book about parallel universes with a surprising romance.
My question to you, my lovely readers:
Would you want to see yourself and different way life played out if inter-dimensional travel to parallel lives were safe and possible?