Edward and Bella have dark pasts that leave them severely emotionally scarred, with nightmares that force them to stay awake. They meet and begin to form a bond during the night hours.
Disclaimer: I am reviewing Twilight fanfiction in this post (it will not be a regular thing, so if you don't like it, please don't click unfollow!). Yes, that makes me a nerd. Yes, I am okay if you don't read this :)
This is also rated M, and for a good reason (the story not my review.)
You can read the story
here
scroll down and there are chapter links on left hand side or read first chapter
here
, or get pdf
here
So, up front- who has read it? Anyone? What are your favorite fanfics if you read them? Just for Twilight or for other books too (I am mostly Twilight but have read a few Vamp Academy)
As for the cover, it fits so much because Bella in fanfic likes to bake and she makes cookies every night and then gives them names based on something in her day.
Okay, so I haven't been able to get this out of my mind the last few days. It is ultimate proof that I have a huge soft spot for bad boys with a tender side. This transforms the Edward and Bella that I love into something darker, more complex. I am draw to people with issues, watching how love can heal and their journey to healing, and this fanfic has it all.
I guess that it says something that I have a stack of books to review and all I can think about is this story! Okay, so I have said what I needed to, and talked about it a bit, now I am back to the regularly scheduled program.
Their characters are really deeply sculpted. Yes, I know its based on Twilight, but Bella and Edward only share a few characteristics of the ones in the book. We have their connection and their pasts, but in this, Bella is traumatized because in this story Phil was an exboyfriend of her mom's but held a two week long home invasion where Bella heard her mom being tortured and eventually killed and she experienced physical and emotional abuse. As a result, she can't be touched, especially by men, or she has severe flashbacks and ends up screaming, shaking, and out of it.
Edward was in a housefire and watched his dad pass away. After, his mom gave him up to the state. He is crude--he has the filthiest language and most people don't think there is a sensitive man with a lot to offer.
What initially draws them together is that they both can't sleep and go through extreme measures to keep themselves awake. They have debilitating nightmares and will do lots of things to avoid sleep. They meet at the gazebo at midnight, and begin to talk, and eventually Bella realizes that Edward can touch her without her flashbacks.
This story is hot! It contains a lot of steamy moments between the two but it follows a deep emotional connection. They share their nightmares and pasts and feel like its okay because when one shares or shows, so does the other. Tit for tat as they call it.
They create this dependancy because they discover they can get a full night sleep in the other's arms. So Bella sneaks out every night, and into Edwards room. (In this story Esme is Bella's aunt who has taken her in. Carlisle is a foster become adopted dad to Edward and Emmett, and Jasper and Rose are in another family).
Of course, they are eventually caught, and Esme and Carlisle forbid them from seeing each other. Their symptoms of sleep deprivation comes back, lowered grades, slurred speech, bloodshot eyes, weight loss, not able to concentrate well, and only halfway making it through life. It is during this seperation though that they face some real issues, and start working towards healing themselves in ways they only could when they were ready. I love seeing their transformations and how their love evolved as well as their life outlook.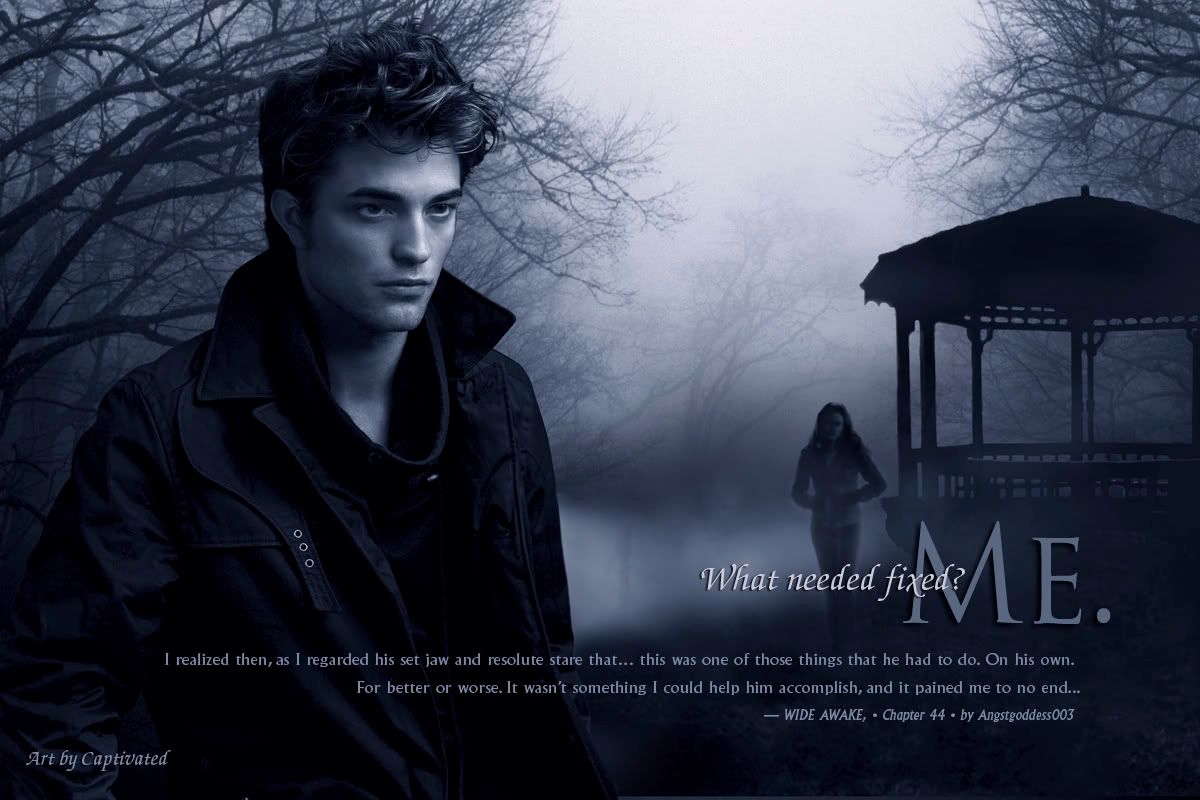 I give this 5 stars and really think that it should be published. I read it once in 2010 when I was looking for things to read after twilight, and then again this week because I am still thinking about it years later.