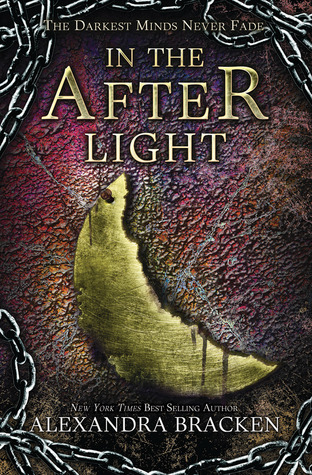 In The Afterlight (The Darkest Minds #3) by Alexandra Bracken
Ruby can't look back. Fractured by an unbearable loss, she and the kids who survived the government's attack on Los Angeles travel north to regroup. With them is a prisoner: Clancy Gray, son of the president, and one of the few people Ruby has encountered with abilities like hers. Only Ruby has any power over him, and just one slip could lead to Clancy wreaking havoc on their minds.
They are armed only with a volatile secret: proof of a government conspiracy to cover up the real cause of IAAN, the disease that has killed most of America's children and left Ruby and others like her with powers the government will kill to keep contained. But internal strife may destroy their only chance to free the "rehabilitation camps" housing thousands of other Psi kids.
Meanwhile, reunited with Liam, the boy she would-and did-sacrifice everything for to keep alive, Ruby must face the painful repercussions of having tampered with his memories of her. She turns to Cole, his older brother, to provide the intense training she knows she will need to take down Gray and the government. But Cole has demons of his own, and one fatal mistake may be the spark that sets the world on fire.
Publishes in US:
October 28th 2014 by Disney-Hyperion
Genre: ya paranormal
Source: disney for review
Series?
The Darkest Minds #3
my reviews:
#1
The Darkest Minds
#2
Never Fade
Buy it:
Amazon
Barnes & Noble
Books-A-Million
iBookstore
IndieBound
Indigo
Author stalk away:
Site
b
log
, or
Tumblr
.
I wanted to read this one because i adored the first one and Liam was pretty amazing. It took me a bit to get back into the story since it has been awhile. I read the notes on recaptains which helped.
It starts off with the action level pretty high and already new betrayals for characters I came to care about and have already been through so much. I remember the characters pretty quickly and got into their adventures. I knew that it was going to be more challenges for them because it is a fairly long book, so prepared my heart. I was glad at the reappearance of some characters and a little frustrated at others because they weren't taking things seriously and felt like they were getting into more danger.
The romance between Ruby and Liam is still a little rocky from where she erased his memories, and they have to face it. But there are other times they are so close you wouldn't remember. They are there for each other in the hard times when it comes down to it, they are fighting against so many other things they don't have the time they need and want. But I did love their scenes together and working towards what they had before and to a future full of possibilities together.
The suspense built a lot but there were times when I was a little frustrated at the back and forth with the planning. I understand they were being thorough and had to be in order for any operation to have a chance at success.
Once the second half of the book got going though after the planning and reminders section was over, I didn't want to put it down. Because I knew it was racing to a conclusion and I hoped I would like where the characters end up.
I did like the ending and thought that it was good for the series and characters.
Bottom Line
: Long but worthwhile.
My question to you, my lovely readers:
Could you forgive someone who erased their memory of them?