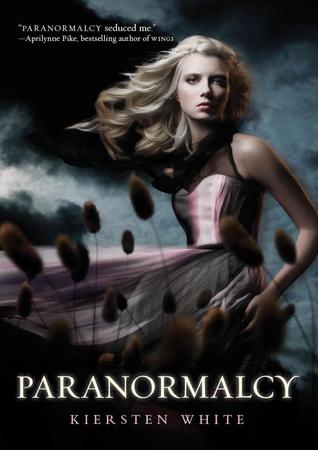 Paranormalcy (Paranormalcy #1) by Kiersten White
Evie's always thought of herself as a normal teenager, even though she works for the International Paranormal Containment Agency, her ex-boyfriend is a faerie, she's falling for a shape-shifter, and she's the only person who can see through paranormals' glamours.
But Evie's about to realize that she may very well be at the center of a dark faerie prophecy promising destruction to all paranormal creatures.
So much for normal.
Publishes in US:
August 31st 2010 by HarperTeen
Genre: ya paranormal
Source: library
Series? Yes
Paranormalcy #1
Buy it:
Amazon
Barnes & Noble
IndieBound
Book Depository
Author stalk away:
site
,
Twitter
and
Facebook
I've been wanting to read this since it came out and I saw good reviews for it. I am just now making time to get some books from the past few years of blogging that I know that I have missed out on, and for the most part it has been a great experience.
The world building in Paranormalcy is good, simple enough but it has many supernaturals that add to the world. Evie herself has grown up in the agency after bouncing from foster homes. They took her in when they realized she saw through a glamour (outside appearance) to the real identity and look of the supernatural below. She has always thought of herself as human, and the work she does tagging other paranormals as helpful to the world in general.
But a prophecy and a new guy, the likes of which Evie has never seen in the paranormal spectrum before shows up and things get a lot more action packed and adds in twists. Lend, the new guy, seems so sweet, and he marvels that Evie sees who he really is and they both really enjoy spending time together.
There is also a fairy Reth who Evie used to have a special connection with, that Evie used to love but now just is scared that he is trying to take her heart. Things clear up a bit when Evie realizes that she has someone much like her but that the two differences in the prophecy could mean one for her and another for the mystery gal.
I really enjoyed the romance and Evie's general outlook. She has never been to school, only watching a popular tv series about the "normals" that she loves. Her best friend is also a paranormal, she is like a mermaid and they have her in a tank. She speaks through a computer generated software and they have many laughs as she tries to say curse words and all that comes out it is bleep.
I flew through this one and will be sure to read the next to see what will happen with Evie, Lend, Reth and the others I got to know in this book.
Bottom Line
: Good and fast paced paranormal.
My question to you, my lovely readers:
If you could be a paranormal creature, what would you chose.