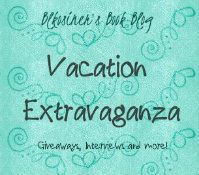 The Dark Light by Sara Walsh
Mia is torn between two worlds in this epic, romantic fantasy.
Mysterious lights have flickered above Crownsville for as long as Mia can remember. And as far as she's concerned, that's about the only interesting thing to happen in her small town.
That is, until Sol arrives. Mia's not one to fall for just any guy, but she can't get Sol—or the brilliant tattoo on his back—out of her mind.
Then Mia's brother goes missing, and Mia's convinced that Sol knows more than he's sharing. But getting closer to Sol means reevaluating everything Mia once believed to be true. Because Sol's not who Mia thought he was—and neither is she.
Find Sara
Website
Blog
Twitter
Facebook
Goodreads
Author page
Amazon
This is part of the Vacation Extravaganza. I go to Disney and you still win!
Make sure to leave a comment, and get an extra entry at the giveaway on the 17th
Scroll through or go through the vacation extravaganza label because I couldn't figure out another way to keep my posts up to date.

Sara Walsh Bio
Sara Walsh is British, but happily lives in Annapolis, Maryland. She graduated college with a degree in psychology, but soon decided that telling stories was much more fun. When not writing, Sara is usually reading, drowning in tea, or frolicking around town with the world's cutest St. Bernard. The Dark Light is her first novel.
Hi, Brandi! Thanks so much for inviting me to your blog.
--The Twitter version: tell us about your book in 140 characters or less.
I rehearsed this on Twitter to make sure I wouldn't go bust!
"One small town girl. One hot guy with an awesome tattoo. Mysterious lights and a missing brother. Fantastical shenanigans follow."

--How did you get the idea for the story?
I got the idea for The Dark Light on a road trip from Kansas to Wyoming. The trip happened at the time of a news story about a boy who'd mysteriously reappeared almost ten years after vanishing. We were talking about the story as we drove across the plains, and the open spaces got me thinking about all the places that a person could disappear. What might really be out there? And that's when I came up with the idea for The Dark Light.
(Very cool, and glad the boy is home again)
--Which character would you most/least like to have dinner with?
I'd definitely want to have dinner with Sol's best friend, Delane. He's a really laid back guy and pretty good for a laugh.
(He sounds great!)
--What book(s) is your book's "cousin"? (Similar set-up or style)
That's a great question. I have to admit, The Dark Light is a real genre blender and it's taking quite a few people by surprise. A few early reviewers have compared the book to Julie Kagawa's Iron Fey series--but without the faeries!
(Nice! I loved that city)
--What are some of your favorite books? Do you still have much time to read?
I try to read as much as I can--over a hundred books last year, and I hope for about the same this year. Some recent favorites have been Daughter of Smoke and Bone by Laini Taylor and The Night Circus by Erin Morgenstern.
(Haven't read either, but I want to read both)

--If a fairy godmother told you could be put into the world of your favorite book for 24 hours, which book would you pick and why?
I think I'd go into Willy Wonka's chocolate factory from Roald Dahl's Charlie and the Chocolate Factory. And I'd try really hard not to upset the Oompa Loompas.
(That would be awesome)

--Do you need anything to write (music, coffee, etc)? Are there any songs on your playlist- songs that inspired you or that were playing while you wrote?
I usually have tea close by, but other than that I just try to sit down and get started. Music is a weird one. I used to listen to a lot of music as I wrote, loudly, and often using headphones (don't do this, kids!), but as I've gotten older, I find I can't concentrate as well as I used to when listening to music, so I actually wrote The Dark Light pretty much in silence. The song that reminds me most of The Dark Light is Home by Chris Daughtry. I switched on the radio just after I'd finished the first draft of the book and that was the first song that came on. Now, I always think about the book when I hear that song.
(Love his music)

--If you could have any superpower what would you choose?
Telepathy, because I'm really nosy and being telepathic would allow me to find out all the gossip!
(I am so wary of that... afraid of what others might really think of me)

--Besides writing, what do you like to do in your free time?
If I'm not writing, I'm usually reading or taking long walks with my St. Bernard, Rosie.
--What is one thing you would tell your 15 year old self?
I have to admit that I was a lot more together in my teens than I am now, so I'd probably tell myself to "Stick at it! You're on the right track!"

--Is there anything else you want to add or say to your readers?
I'd just like to thank everyone who has read The Dark Light or who is thinking of picking it up! I really appreciate that. And thanks to you, Brandi, for inviting me over to your blog! It's been a lot of fun!
Lightning round: this or that?
Vanilla or chocolate?
Chocolate
Edward or Jacob?
Edward--Jacob's imprinting thing is too weird!
Hockey or soccer?
Soccer
Ebook or paper?
Paper
Beach or mountains?
Both
Early bird or night owl?
Neither!
Dog or cat?
Dog
Messy or neat?
Messy
Ninjas or pirates?
Pirates!
Pin It