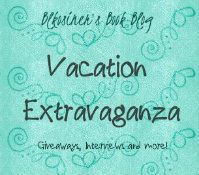 Interview with Speechless author Hannah Harrington
Speechless by Hannah Harrington
Everyone knows that Chelsea Knot can't keep a secret
Until now. Because the last secret she shared turned her into a social outcast—and nearly got someone killed.
Now Chelsea has taken a vow of silence—to learn to keep her mouth shut, and to stop hurting anyone else. And if she thinks keeping secrets is hard, not speaking up when she's ignored, ridiculed and even attacked is worse.
But there's strength in silence, and in the new friends who are, shockingly, coming her way—people she never noticed before; a boy she might even fall for. If only her new friends can forgive what she's done. If only she can forgive herself.
Publishes in US: Aug 28th 2012
Buy:
Goodreads
|
Amazon UK
|
Amazon
|
The Book Depository
Check out my review
here
This is part of the Vacation Extravaganza. I go to Disney and you still win!
Make sure to leave a comment, and get an extra entry at the giveaway on the 17th.
Scroll through or go through the vacation extravaganza label because I couldn't figure out another way to keep my posts up to date on the sidebar.

--The Twitter version: tell us about your book in 140 characters or less.
Gossip queen blabs secret, and bad stuff happens. Take vow of silence and finds her real voice. Also a diner. And a boy!

--How did you get the idea for the story?
It was just a random thought I had, the idea of someone taking a vow of silence. And then to write a story about that, I had to think of what would up the stakes—who that would be most difficult for (someone who loves to talk/gossip), how someone would wind up deciding to do that… the rest of Speechless sort of built up around that!
--Which character would you most/least like to have dinner with?
Sam because he would make the dinner and it would be great. Least would be Kristen, since she is pretty terrible, personality-wise!
--What book(s) is your book's "cousin"? (Similar set-up or style)
I've seen a lot of comparisons to Speak by Laurie Halse-Anderson, though I can't say because I honestly have not read it myself. But I've heard it's amazing so I will take that as a compliment!
--What are some of your favorite books? Do you still have much time to read?
I try to make time to read because I love it so much! I just finished No One Belongs Here More Than You by Miranda July, and it was a fantastic collection of short stories. I also love The Giver by Lois Lowry and Wide Awake by David Levithan and Everything is Illuminated by Jonathan Safran-Foer.



--If a fairy godmother told you could be put into the world of your favorite book for 24 hours, which book would you pick and why?
Beginner's Luck by Laura Pedersen. The cast of characters in that book is so funny and eccentric and sweet… The whole book is like comfort food to me. I love stories about "second families".


--Do you need anything to write (music, coffee, etc)? Are there any songs on your playlist- songs that inspired you or that were playing while you wrote?
I do like to listen to music in the background when I'm writing, it just depends. I think when I wrote Speechless I was really into Lady Gaga's Fame Monster album. Also for some reason I think I tie the song Love You Til The End by The Pogues to the story.


--If you could have any superpower what would you choose?
Flying. It would be so much fun!
--Besides writing, what do you like to do in your free time?
I like hanging out with friends even if we're just sitting around talking, traveling whenever and wherever I can, playing a bit of guitar, watching films, and spoiling my many animals.
--What is one thing you would tell your 15 year old self?
Things are going to get really hard for a while, but it won't be the end of the world, even when it feels like it.

--Is there anything else you want to add or say to your readers?
I just want to thank you so much for having me on your blog, and I really hope that everyone enjoys SPEECHLESS! I am very excited that it'll be out there and can't wait to see what you all think of it.
Lightning round: this or that?
Vanilla or chocolate?
Chocolate!
Edward or Jacob?
NEITHER.
Hockey or soccer?
Soccer.
Ebook or paper?
Paper.
Salty or sweet?
Sweet. (But combining them both is the best.)
Beach or mountains?
Beach.
Phone call or email?
Email.
Early bird or night owl?
Night owl.
Dog or cat?
Dog.
Messy or neat?
Neat.
Ninjas or pirates?
My question to you, my lovely readers:
Would you ever take a vow of silence?
Pin It