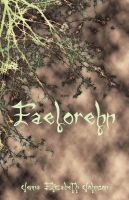 Faelorehn - Book One of the Otherworld Trilogy by Jenna Elizabeth Johnson
Meghan Elam has been strange her entire life: her eyes have this odd habit of changing color and she sees and hears things no one else does. When the visions and voices in her head start to get worse, she is convinced that her parents will want to drag her off to another psychiatrist. That is, until the mysterious Cade MacRoich shows up out of nowhere with an explanation of his own.
- 5 ebook copies, open internationally
-Fill out Rafflecopter to enter
-Ends on 8/14
-Make sure to check out and comment on our interview below for an extra entry
a Rafflecopter giveaway

--The Twitter version: tell us about your book in 140 characters or less.
Faelorehn is about Meghan, a girl who sees and hears odd things. Meghan thinks she's crazy, until Cade MacRoich convinces her otherwise.

--How did you get the idea for the story?
The idea for Faelorehn and the other two books of the Otherworld Trilogy has been a long time coming. I've been writing for seven years now and the premise for Faelorehn came to me about a year ago. During my time in college, I took several Celtic and Norse mythology classes and I've always had a Norse/Celtic theme or undertone to my books. At some point in time I realized that I really wanted to write a young adult series that would bring the Celtic myths to life in a unique way. Also during that time I got the chance to read Amanda Hocking's Switched, and her use of changelings and trolls reminded me of the Celtic myth books I wanted to write. And so began the evolution and creation of the Otherworld Trilogy. I wanted to write an urban fantasy novel (something I hope modern day young adults can relate to) that incorporated the myths, legends and traditions of the ancient Celts. Many books center around Greek, Roman and even Egyptian mythology, and I thought it would be a nice change to throw some Celtic legends in with the bunch.
--Which character would you most/least like to have dinner with?
Which of my characters from Faelorehn? Oh, Cade for sure. Who wouldn't want to have a sit down with the tall, mysterious young man with changeable eyes? ;) He is an interesting character because he comes from an entirely different world than Meghan, my main protagonist, and he has plenty of his own secrets and demons he needs to deal with, though he is careful to keep those hidden. Of course, there are many more reasons why I'd like to have a few hours of one-on-one conversation with him (reasons that might be made a little more clear in the second book, Dolmarehn), but if I listed them then I'd be giving away far too much. You'll just have to read the books to see what I mean.

--What are some of your favorite books? Do you still have much time to read?
Pretty much anything written by Sharon Shinn (both young adult and adult fantasy novels) and Sherwood Smith's Crown/Court Duel, the Study books by Maria V. Snyder, Lois McMaster Bujold's Sharing Knife series, the Flash Gold and Emperor's Edge books by Lindsay Buroker and I've recently discovered Ilona Andrews (I really like her Edge series). These are just a few of my favorite books and authors and I do still spend a lot of time for reading when I'm not writing. I feel that reading new authors and new stories helps me to develop new ideas of my own and gives my creative side time to recover from writing.
--Do you have any other works in progress? Any teasers or release dates?

I have several works in progress, some more complete than others, some just a few sentences expressing an idea I had at the time. The second book in the Otherworld Trilogy, Dolmarehn, is complete, but it needs a lot of editing and I'm waiting to finish the third book before I release it (I hope to be done in a few months, maybe by August). I'm thinking about doing a cover reveal on my blog in a month or so. I've also had some ideas to continue the Otherworld series by writing a second trilogy or other spinoffs taking the perspective of secondary characters, but they aren't fully formed quite yet.
I also have a middle grade epic fantasy series in the works (three of the five planned books are available). The series is called The Legend of Oescienne. The Finding, The Beginning and The Awakening are the three books that are currently published.
I do have a teaser for Dolmarehn included at the end of Faelorehn, but you'll have to purchase the book to read it. When I get closer to the release date I'll be posting the first chapter on my website, www.jennaelizabethjohnson.com.

--If a fairy godmother told you your life could be like a favorite book for 24 hours, which book would you pick and why?

Wow, this is a tough one . . . I have several books I'd love to live in for 24 hours, but one that really stands out is the Emperor's Edge by Lindsay Buroker. Technically, it is a series, and I can't pick which book I'd prefer, but if I could spend 24 hours with the characters from these books, I'd be quite pleased. The main character, Amaranthe, is someone to be admired: she runs a group of outlaws who strive to do good deeds for the empire. The group is a mishmash of men, all of whom have been shunned from society in one form or another, yet Amaranthe is the glue that keeps them all together. She is a wonderful leader and makes them all feel like they matter, and I would love to hang out with all of them and accompany them on one of their adventures.
--Do you need anything to write (music, coffee, etc)? Are there any songs on your playlist- songs that inspired you or that were playing while you wrote?
The perfect ingredients, in my opinion, for a good writing spell are:
1. Pre-dawn darkness (when I'm on a writing roll, I'll get on a schedule of waking up really early before the sun is up and while it is still dark and quiet)
2. Strong tea with milk and honey (and a snack to nibble on :))
3. Instrumental music (classical, soundtrack, new age Celtic etc.)
4. A lit, scented candle (on occasion)
5. Foggy or rainy weather (if available)
6. A warm blanket and my dragon slippers (or thick socks)
Of course, the above is my preferred setting, but if I've got a story brewing, I can write just about anywhere ;).
I try to match my writing soundtrack with what I'm currently working on. For Faelorehn and the other Otherworld books, I have a nice mix of Celtic instrumental music.

--If you could have any superpower what would you choose?


This question took me the longest to answer; I think because a superpower is a serious talent and shouldn't be taken lightly. I thought about being able to fly or having super strength, but in the end I decided that if I were ever gifted with a superpower, I'd like the ability to heal any wound or sickness. Being immortal would be great, but the truth is, we weren't made to live forever. If, however, I could heal any ailment, it might make living a bit easier. In a way, it is similar to immortality: I could heal people of horrible diseases or wounds from terrible disasters, but in the end, we would all still die, we just wouldn't die before we reached old age. To me, that would be a wonderful gift to have.

--Besides writing, what do you like to do in your free time?
Too many things. I like reading, drawing, sewing, cooking/baking, gardening, camping, hiking, Medieval sword fighting, archery and I'm currently trying to take up beekeeping. And of course, there is the always popular time-wasting on the internet ;).

--Is there anything else you want to add or say to your readers?
Simply that I appreciate anyone who takes the time to read one of my books. Readers, in my opinion, act as the backbone for the indie writer. If I didn't have readers who gave my books a chance, told their friends about them if they enjoyed them, wrote a review on amazon.com or Goodreads, then I would have a very hard time getting the word out about my novels. Being an independent author means that (usually) you don't have a huge budget to back a marketing campaign to get the word out about your books. Most of the time people learn about my books from others. I just want to thank everyone who reads and spreads the word about the indie books they have read and enjoyed; you are helping us indie authors far more than you might realize :). I also want to thank Blkosiner's Book Blog for allowing me to take part on their blog. This has been a fun and challenging interview!
Lightning round: this or that?
Vanilla or chocolate? Vanilla
Edward or Jacob? Edward
Hockey or soccer? Soccer
Ebook or paper? Ebook
Salty or sweet? Sweet
Beach or mountains? Mountains
Phone call or email? Email
Early bird or night owl? Night Owl masquerading as an Early Bird ;)
Dog or cat? Cat
Messy or neat? Messy
Ninjas or pirates? Pirates
Check out the other giveaways on the hop:


Pin It