Wild Land by Kathryn Hogan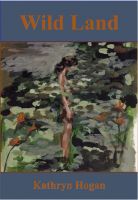 Wild Land is about a seventeen year old tom boy, Elizabeth Walker, who
chases her dream of being a peacekeeper to the far side of the world. But
when she arrives in the Wild Land, it's eerily familiar. She can
remember growing up here, getting married, being a refugee and then
being killed in a terrible war... one which supposedly ended hundreds
of years before. The more Elizabeth remembers, the more it seems that
the enemy who destroyed her people then is still in the Wild Land.
Elizabeth and her friends are pawns in a struggle that's already
killed her once. Can she stop the slaughter this time?
Wild Land is a paranormal romance aimed at young adults, and older
adults who are young at heart. Or young in books. You know.
Giveaway is open internationally for one print copy
a Rafflecopter giveaway
Here is my interview with Kathryn-thanks so much for participating.
--

The Twitter version: tell us about your book in 140 characters or less.
A terrible evil hides in the Wild Land. Elizabeth can stop it. But the last time she tried, she didn't make it out alive.

--How did you get the idea for the story?
I had an extremely vivid dream in which I was one of the main characters. When I woke up, I jotted down some notes from the dream, which formed a basic outline. The details that weren't in the dream came to me as I went.
--Which character would you most/least like to have dinner with?
I'd like to have dinner with Maria, an ancient shaman who shares my love of gardening. She's really friendly, spiritually mature, and has accomplished my dream of owning chickens.
I wouldn't like to have dinner with any of the crazed, human eating robots.

--What are some of your favorite books? Do you still have much time to read?
I make time to read! Right now I'm re-reading the Abhorsen trilogy by Garth Nix. I can't believe I actually read that in junior high without peeing myself with fear!
There are too many favorites for me to list, but I love the Dark Tower by Stephen King, His Dark Materials by Philip Pullman, anything by Dave Barry... I recently had a viking-romance binge, reading about ten books by Sandra Hill. And I love books about gardening and permaculture design, foremost among them being Edible Forest Gardens by Dave Jacke.
--Do you have any other works in progress? Any teasers or release dates?
I'm working on the second in a series, the first of which will be released late this spring. A young woman named Ana discovers she's pregnant, but has never had sex. With the help of her magically powerful grandma, Ana begins to remember a clandestine relationship with a man who wasn't quite human, but was a shadow, living in a world parallel to our own. In her efforts to find her missing baby-daddy, Ana accidentally opens a gateway between the worlds... a gateway with its own plans for the realms of light and dark, and the people who live in them.
Instead of robots and shamans, this series features an almost-always topless hunky man-witch, a love-triangle that breaks the boundaries between worlds, and a war that threatens the balance of life itself.
It promises to be exciting, sexy, and magically inclined!



--If a fairy godmother told you your life could be like a favorite book for 24 hours, which book would you pick and why?
Either Geography of Hope: A Tour of the World We Need by Chris Turner, or the Ringing Cedars Series by Vladimir Megre.
My life-goals center around living in my own garden of Eden; designing and creating a beautiful and ecologically self-sustaining forest garden that feeds me and my family, as well as meshing harmoniously with the natural forest around us. Also, global warming scares me.


--Do you need anything to write (music, coffee, etc)? Are there any songs on your playlist- songs that inspired you or that were playing while you wrote?
All I need to write is to force myself to write. I like to write in the morning, with a coffee, by myself where it's quiet, but all I need is to make myself sit down at the keyboard and not stand up until my 2000 words for that day is finished.


--If you could have any superpower what would you choose?
The power to win the lottery.


--Besides writing, what do you like to do in your free time?
I love hiking, cross country skiing, exploring, playing with my dog and cat, snuggling with my lumberjack fiancee, reading, cooking and eating delicious things with friends, and gardening. I also work part time for a beautiful protected area called Kananaskis Country near where I live: I'm an information officer as well as working with seniors and people with special needs, and getting them outside in the beautiful mountains!


--Is there anything else you want to add or say to your readers?
You're welcome in my garden any time! Make sure you try the strawberries, they're delicious!
Lightning round: this or that?
Vanilla or chocolate? Chocolate
Hockey or soccer? Soccer because sometimes they wear short shorts
Ebook or paper? Depends on whether the book has pictures
Salty or sweet? BOTH ALL AT ONCE
Beach or mountains? Mountains
Phone call or email? Phone call with good friends, email when nervous.
Early bird or night owl? Early bird.
Dog or cat? One snuggling on each side.
Ninjas or pirates? Pirates. For sure.
Thanks Kathryn!
Check out my other giveaways: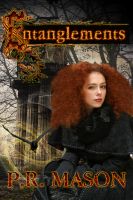 Entanglements and Fated Hearts by P.R. Mason ends 2/9
The Lucky Boy by Caroline Gerado ends 2/10
Revealing Eden by Victoria Foyt ends 2/10
Deluge by SB Sebrick ends 2/12
Discordia by Morgana Gallaway ends 2/15
Eve Hallows and The Book of Shrieks by Robert Gray ends 2/28
Check out the other giveaways in the hop: