Angel Evolution by David Estes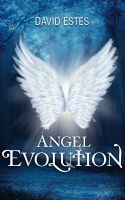 When Taylor meets Gabriel at college, she is in awe of the subtle glow that surrounds him. No one else, not even her best friend, seems to notice.
Something about him scares her.
Is all as it appears? While Taylor struggles for answers, she finds herself in the middle of a century old war centered on one miraculous revelation: evolution.
5 ebook copies up for grabs, open internationally. Please check out and comment on interview below :)
a Rafflecopter giveaway
--

The Twitter version: tell us about your book in 140 characters or less.
Girl meets boy who is an angel on a mission to seduce her. BFF meets boy who is a demon on a mission trying to stop the angel. Epic battle.


--How did you get the idea for the story?
I was inspired to write Angel Evolution by my wife, Adele. Before I met her, I never believed I would have an idea good enough to write about. She convinced me to pursue my first idea and just go with it and see where it would take me. The Evolution Trilogy was born! When I first started writing Angel Evolution, I had no clue that it might turn into a one thousand page trilogy. The more I wrote, the more the story took on a life of its own and some of the characters changed in ways I never expected.
I've officially caught the writing bug and have written eight books in fifteen months!
--Which character would you most/least like to have dinner with?
Awesome question! I would most like to have dinner with a character who is in all three books, but is most prevalent in the third book. His name is David and he's Gabriel's (the main male character) younger brother. He changes throughout the trilogy in ways that will make you shiver and cringe. I'd love to pick his brain on what makes him the way he is.
The character I'd least like to have dinner with is Dionysus, the angel puppet master. His evil pervades all three books and I just think dinner with him would be a real drag.

--What are some of your favorite books? Do you still have much time to read?
I have so many favorite books it's hard to pick just a few, but I'll try. At the very top of the list are any books by authors like Dean Koontz and J.R.R Tolkien. Tolkien was my favorite author as a child, while Koontz became a favorite of mine later in life. Each of them have an uncanny ability to weave words into a book, like threads into a tapestry. I have also been inspired recently by Suzanne Collins' Hunger Games and Amanda Hocking's numerous series—each have both seemingly come out of nowhere to gain immense popularity. They are both great storytellers, which is what I hope to be.
I love, love, love reading and I will never stop no matter how busy I am. I sneak it in whenever I can.
My wife calls me 'Brick', after the child character from the TV show The Middle. In the show, Brick is constantly reading no matter where he is. That's me. We'll be watching TV and then a commercial will come on and Adele will run back into the kitchen to get a drink, and when she comes back, I will have my book out, trying to sneak in a page before the show comes back on! So while I don't have nearly as much time as I used to because I work full time in addition to my writing, I still manage to read enough to satisfy my addiction.
--Do you have any other works in progress? Any teasers or release dates?
Besides spending time with my wife, writing is my favorite thing to do, so I'm keeping very busy. I'm working on a number of other projects while launching the Evolution Trilogy.
My current project is a YA post-apocalyptic dystopian thriller written from the perspective of two characters in alternating chapters. Without giving two much away, the two characters (one male and one female) come from very different walks of life, but are thrust together unexpectedly. As their lives intertwine, they must seek to bring balance to a world that is out of control. I hope to release the entire trilogy in mid-2012.
I have recently finished a YA novel about a boy with a very unique disability and one hell of a sense of humor who meets loads of interesting teenagers on a suspenseful yet funny adventure to uncover the truth about the father he never knew. I am seeking an agent for this novel but am still open to self-publishing it if I am unsuccessful.
I have also completed the first four books in a children's series aimed at kids between the ages of 7 and 10. It's a classic superhero story about a girl who meets a strange animal who leads her to a treasure chest in the middle of the forest. The chest contains a gift that allows the girl to perform miraculous feats. I have another two books planned for the series, which I will be working to complete in 2012. The first book in the series is currently being reviewed by a large children's book publisher.
My remaining projects range from a variety of children's novels from the fantastical to the downright silly, to my next venture into YA fantasy, and to the creation of an adult suspense/mystery series with a strong and interesting male character. I have written the first page of more books than I can count without taking off my shoes!

--If a fairy godmother told you your life could be like a favorite book for 24 hours, which book would you pick and why?
I have lived in so many different worlds in my mind that I feel like I am trying to choose my favorite child. (Not that I have kids yet, but if I did, ya know what I mean?) There are great series like Tomorrow When the War Began, but although I live in Australia now, I would definitely steer clear of the Australia in that story—it is pretty much just a warzone. Same goes for the post-apocalyptic country of Panem in the Hunger Games. Although still dangerous, I might choose the monster-infested world in the Percy Jackson books. That is, as long as I am a demigod offspring of one of the Greek gods! Another good option would be Hogwarts. Again, dangerous, but worth it to be able to use magic!

--Do you need anything to write (music, coffee, etc)? Are there any songs on your playlist- songs that inspired you or that were playing while you wrote?
I don't need anything in particular to write (except my laptop, I guess, although I'm always jotting down notes and even whole sentences in my iPhone too), I generally have my iPod on when I'm writing because I tend to write in public places. On the ferry to work, in a café at lunchtime, at the swimming pool: I write everywhere so I need music to block out the distractions.
Good question about the songs. The beginning of each part (each book has four parts) in the Evolution Trilogy, begins with a few bars from a song that relates to the chapter. So I guess those would be the songs that inspired me. They range from Lady Gaga to Pearl Jam to Bryan Adams.

--If you could have any superpower what would you choose?
This is a cool question for me because of the children's series I've been working on which involves superpowers. There are so many to choose from, but I think I'd go with teleporting, like the characters in the movie Jumper. I love travelling, meaning seeing new places, not the act of getting there. If I could avoid the airports—the security checks, bad plane food, lack of sleep and comfort—that would be awesome. Plus, just imagine how much more time you'd have if you didn't need to commute anywhere!!

--Besides writing, what do you like to do in your free time?
Writing…oh wait, you said, besides writing. Number one is spending time with my wife, Adele. We are soul mates in every sense and are happiest when we're together. We love to go to the beach, swim laps at the pool, play tennis, read on the daybed on our balcony, watch movies, or just hang out. I wish I had more free time at the moment to do all of that, but working a full time job, writing, and promoting my published books has made free time quite scarce!

--Is there anything else you want to add or say to your readers?
While I don't particularly enjoy promoting my books, I really enjoy connecting with my readers. I do it via my blog, Facebook, Twitter, Goodreads, LibraryThing, and Book Blogs. See below for links to where you can find me at all of those places. If you send me a message, I will respond. (I take this promise more seriously than any other!)
Follow me on Goodreads:
http://www.goodreads.com/davidestesbooks
Friend me on Book Blogs: http://bookblogs.ning.com/profile/DavidEstes
Oh yeah, and my books are available on Amazon.com in print and anywhere e-books are sold (Kindle, iBooks, Nookbooks, Smashwords.com, etc.)!
Lightning round: this or that?
Vanilla or chocolate? Chocoholic
Edward or Jacob? Jacob—I always root for the underdog
Hockey or soccer? Hockey—play it, watch it, love it (although I played soccer too)
Ebook or paper? Paper is still the best, but I am now reading books on my iPhone because I don't own an e-reader. It's actually not as bad as it sounds!
Salty or sweet? Overall….sweet, I get that from my mom.
Beach or mountains? Beach! I live at Manly Beach in Australia with my lovely wife, Adele. We are at the beach constantly.
Phone call or email? E-mail. I'm a writer, after all.
Early bird or night owl? Used to be a night owl, now an early bird.
Dog or cat? Allergic to cats so gotta go dog, although my wife loves all animals so I might just have to deal with my allergies!
Messy or neat? Neat—I have OCD (seriously, it's bad)
Ninjas or pirates? Pirates are cool, but ninjas are cooler.
Check out the other giveaways on the hop:

Pin It