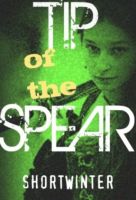 Scipio Elysian is an ancient Legionnaire that - at an important moment in time - managed to really piss off God. Now, however, he has the 506th Shock Troops straight from the dark side at his disposal...and a nasty plan that will turn Europe into a bonfire.
Sabine's latest assignment takes her to London, to protect the daughter of an international arms dealer targeted by Elysian's damned souls. Vanessa Zhou, unfortunately, is absolutely thrilled to be in danger from dark denizens. Sabine joins forces with Awair Overjohn (walked in front of a bus, 1957) and Max Robespierre (guillotine without trial, 1794) to counter Elysian and his second in command – the certifiable Lizzie Borden.
Does Sabine have an idea on how to stop the madness? Yes, in fact she does. She fully intends to slice off Elysian's gentleman sausage and feed it to him.
During the battle to stop an all-out war, Sabine discovers true sacrifice in the most unlikely of circumstances - and something she hasn't known for a thousand years in God's service ...friendship.
1 ebook, open internationally
Please check out our interview below, and fill out rafflecopter to enter
a Rafflecopter giveaway
Thank you Daniel for the interview and giveaway:
--

The Twitter version: tell us about your book in 140 characters or less.




God's most decorated warrior is a 15-year-old girl with daddy issues. Sabine Mellde, a lonely teenage angel, is trying to earn her wings…despite a series of mishaps that have caused Heaven's insurance premiums to skyrocket.

Simply put, she's screwed.

--How did you get the idea for the story?
I've been working on an infrastructure in Heaven for 15 years, where extraordinary people work for God in their afterlife. Sabine is the adopted daughter of a minor character from another book. I'm adopted, too, and like her, I've never really fit in.
--Which character would you most/least like to have dinner with?
The Archangel Michael, for sure. Like me, he's a big movie fan, enjoys cheeseburgers and the latest technology. Plus, he's 13 billion years old, so there would be a lot to talk about.

--What are some of your favorite books? Do you still have much time to read?
Anything by Barry Eisler or John Sandford. I grew out of Patricia Cornwall, but I used to be huge fan. And no, I don't read much anymore. Too busy.
-Do you have any other works in progress? Any teasers or release dates?
Poison Well
will be out soon, which chronicles the rocky start of the Joint Human Analysis Directorate in Heaven. The Directorate tracks murderers and their victims for God. I don't do sequels, mainly because I think the focus should be on the story in front of me, not the next one.

-
-If a fairy godmother told you your life could be like a favorite book for 24 hours, which book would you pick and why?
That is an interesting question. Harry Potter, of course…except I would go to Vegas with those powers and cheat at blackjack! Mad stacks of money!
--Do you need anything to write (music, coffee, etc)? Are there any songs on your playlist- songs that inspired you or that were playing while you wrote?
Silence, just sweet silence….but I will take a break with Leona Neass or Filter.



--If you could have any superpower what would you choose?
I'm a guy. What would any guy want? To see through clothing, naturally.



--Besides writing, what do you like to do in your free time?
I restore antique vehicles. My last one was a WWII Jeep and I'm working on an old Volvo now. I enjoy hunting for the parts in spooky car graveyards.



--Is there anything else you want to add or say to your readers?
Enjoy your family while you can, those kids will be off before you know it. If it's a choice between a great book and a day with your children, choose the kids.
Lightning round: this or that?
Vanilla or chocolate? Vanilla.
Edward or Jacob? No idea what you are talking about.
Beach or mountains? Beach.
Phone call or email? Both.
Early bird or night owl? Early bird.
Ninjas or pirates? Pirates, aaarrgh.
Enter my other giveaways:
Jaguar Sun by Martha Bourke ends 3/10
Check out the other giveaways in the hop:

Pin It